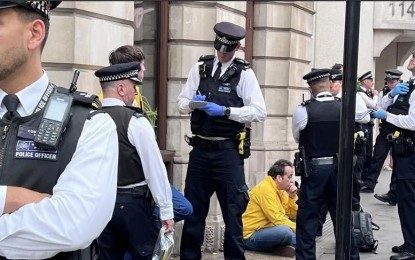 LONDON – British police early Saturday arrested five "Not My King" protesters, including organizers in central London, and seized hundreds of signs, ahead of the coronation of Britain's King Charles III.
Hours before the historic event, in which the UK is about to witness the first coronation of a monarch in nearly 70 years, the organizers of anti-monarchy protest were arrested, the Republic group and Alliance of European Republican Movements (AERM) said on Twitter.
In video footage shared by the AERM, Graham Smith, the chief executive of Republic, and Ben Clinton, an organizer from the group, can be seen being arrested by the police.
In response to a question posed by the AERM, police confirmed that they are under arrest but gave no further details.
"This morning, @GrahamSmith_ and 5 members of our team were arrested. Hundreds of placards were seized. Is this democracy?" Republic said on Twitter.
Amid the coronation, hundreds of people are expected to hold a "Not My King" protest at the iconic Trafalgar Square in central London.
On early Saturday, Republic, known as the leading anti-monarchy group in the UK, wrote on social media: "Instead of a coronation we want an election. Instead of Charles we want a choice. It's that simple."
Charles, who took the throne last September following the death of Queen Elizabeth, the long-serving monarch, is expected to receive his crown in a service beginning at around 11 a.m. local time (1000GMT).
He will wear St. Edward's Crown, made of solid gold, while Queen Camilla will wear a modified version of the Crown of Queen Mary, fashioned in 1911.
After his coronation, Charles will be the 40th monarch to take the traditional Oath of Faithful Service. (Anadolu)