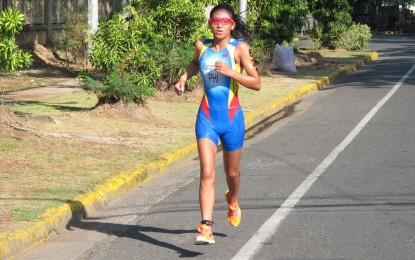 PHNOM PENH – Team Philippines was off to a good start Sunday morning with three more gold medals that hiked the total to 10 at the 32nd Southeast Asian Games (SEAG) in Cambodia.
Kim Mangrobang retained her women's individual duathlon title while obstacle course racing (OCR) delivered two in the men's and women's team relay events.
The men's team is composed of Ahgie Radan, Elias Tabac, Mervin Guarte, and Jay-ar de Castro while the women's squad members are Sandi Menchi Abahan, Mecca Cortizano, Milky Mae Tejares, and Maritess Nocyao.
The 31-year-old Mangrobang crossed the finish line in an hour, four minutes, and 23 seconds to rule the 11-woman field in Kiep.
Vietnam's Thi Phuong Trinh Nguyen (1:05:12) and Indonesia's Maharani Azhri Wahyuningtiyas (1:06:14) setted for the silver and bronze, respectively.
Mangrobang will also eye the triathlon gold on Monday.
The OCR victories were the fourth for the sport after Mark Julian Rodelas and Precious Cabuya topped the individual categories on Saturday.
Also into the final round are five karatekas -- Matthew Manantan, men's Individual Kumite -67kg; Jamie Lim, women's -61kg Kumite; Ivan Agustin, men's -84kg Kumite; Remon Misu, women's -68kg Kumite; and Arianne Brito, women's +68kg Kumite
The men's and women's 3x3 basketball teams took silver medals after bowing to the host, 15-20, and Vietnam, 16-21, respectively, also on Sunday.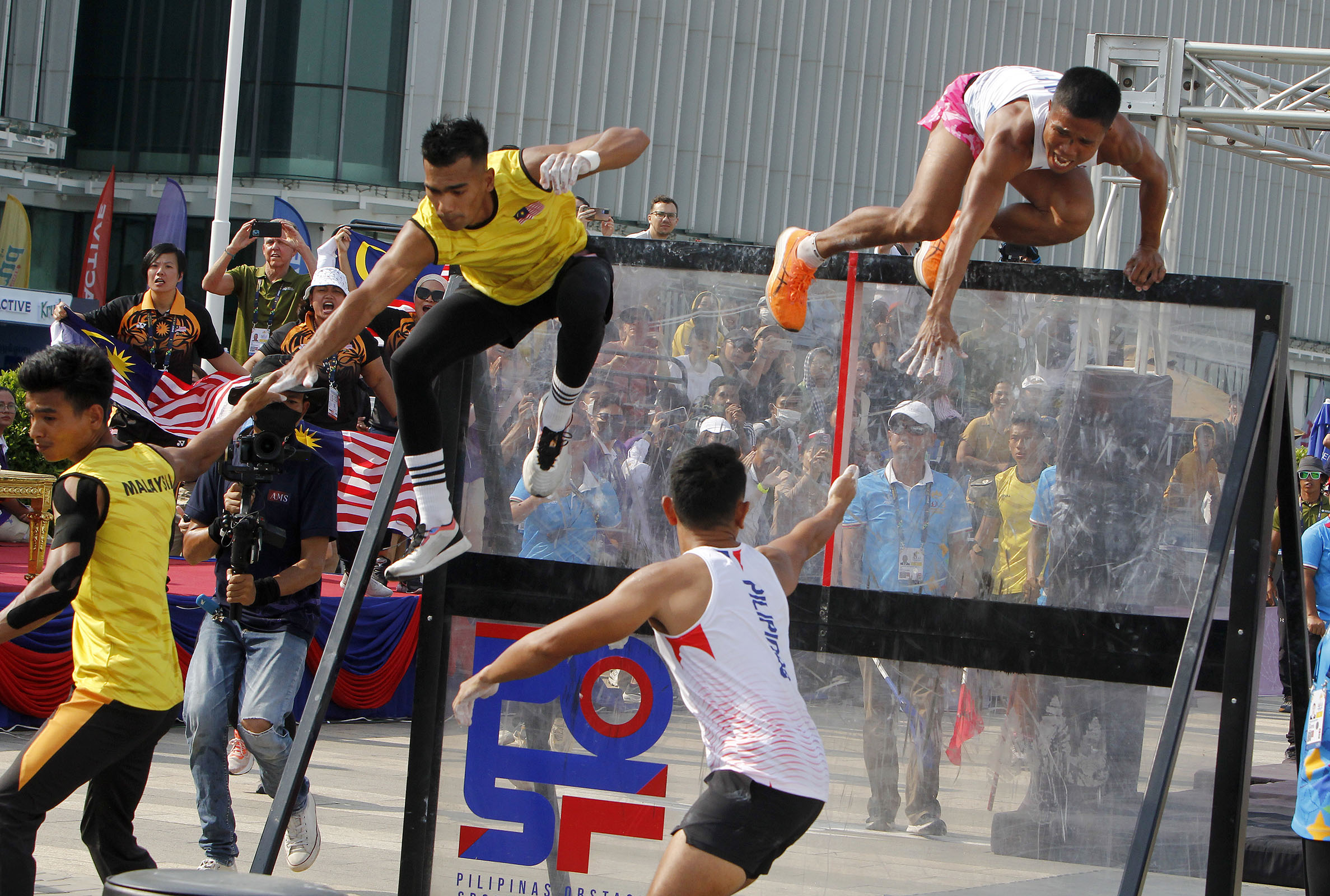 Yulo begins bid
On Monday, Carlos Yulo and the Philippine national men's artistic gymnastics team begin their campaign at the National Olympic Stadium Marquee Tent.
Yulo, who is joined by Juancho Miguel Besana, Ace de Leon, Jhon Santillan and Jan Timbang, will vie for podium finishes in the men's individual and team all-around starting at 10 a.m. (11 a.m., PH time).
Last year, the two-time world champion Yulo grabbed the men's all-around title and took the silver in the team all-around along with Cruz, Besana, De Leon, Timbang and John Matthew Vergara.
Unlike in last year's SEA Games, however, non-Cambodian gymnasts can only join up to two apparatuses, meaning a gymnast can only win a maximum of four gold medals, including the individual and team all-around medals.
The individual apparatus finals will be on Tuesday.
No swimming golds yet
Also on Saturday, a silver and a bronze raised hopes of a decent finish in the swimming competition being held at Morodok Techo Sports Complex here.
The men's team had a promising start after Jerard Jacinto copped the bronze in the 100-meter backstroke with a time of 55.99 seconds, breaking his own national record of 56.27 set in the 2019 World Junior Championships.
Singapore's Quah Zheng Wen ruled the event in 55.22, while Indonesia's Farrel Armandio Tangkas clocked 55.80 for the silver.
Jacinto's bronze is the men's squad's first medal since the 2021 SEA Games (held in 2022 due to the pandemic) after it was left holding an empty bag in Vietnam, where the Philippines finished last in swimming with one gold, three silvers, and three bronzes – all from the women's crew.
"I think it's a very good sign," national head coach Archie Lim said in a news release. "It shows that if you really try, if you really push it, there's always a chance. It shows that he took a chance and got a medal."
The quartet of Teia Salvino, Miranda Renner, Xiandi Chua, and Jasmine Alkhaldi ended the day by taking the silver in the women's 4x100m freestyle, clocking 3:47.96.
Singapore finished over two seconds faster at 3:44.29 for the gold, while Thailand bagged the bronze in 3.50.01.
Lim said the four exceeded expectations in the event where the country failed to medal last year.
"They won a silver as a group, so we're hoping that it serves as a motivation in the next few days that if we really just work together and really try hard, there's always a chance to get a medal," said Lim.
Medals in the men's 50m backstroke, men's 100m breaststroke, men's 50m freestyle, men's 4x200 freestyle relay, women's 50m backstroke, women's 200m freestyle, and women's 200m individual medley were being disputed Sunday. (With reports from the POC-PSC Media Bureau)