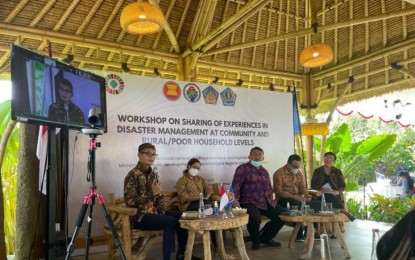 JAKARTA – Indonesia is determined to form the ASEAN Village Network as a platform for cooperation between member countries' villages to contribute to and obtain direct benefit from the development in the region.
"The focus of the ASEAN village network is cooperation in tourism development, primary product development, and village digitalization," Villages, Development of Disadvantaged Regions, and Transmigration (PDTT) Ministry's official Muhammad Fachri said.
The village network formation is planned to be conducted officially by ASEAN leaders during the 42nd ASEAN Summit in Labuan Bajo, East Nusa Tenggara, on May 9–11, he said in a statement on Sunday.
The ASEAN Village Network is expected to open more opportunities for villages in member countries to benefit from ASEAN's cooperation with other partners, including the private sector.
The first ASEAN Village Network meeting is expected to be implemented in Indonesia in the middle of 2023, under the coordination of the PDTT Ministry.
Meanwhile, Foreign Affairs Ministry spokesperson Teuku Faizasyah said cooperation between villages in ASEAN should be encouraged.
"This cooperation can be utilized so that each village can share their best experiences to develop their economy," he said.
"This interaction is also expected to contribute to strengthening the identities of fellow ASEAN members," he added.
In Southeast Asia, 64 percent of the population lives in villages, with a 62 percent higher poverty rate compared to the population that lives in cities.
This figure shows that the effort to reduce poverty rates and expedite development in the region should prioritize development in villages.
Villages are considered to be less empowered, but they have high potential for supporting recovery and constructing the pillar of the Epicentrum of Growth in the region. (Antara)