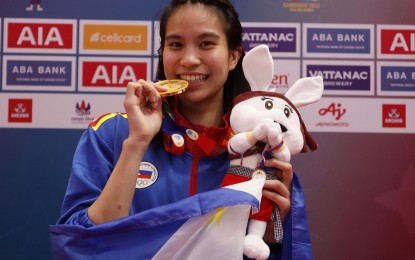 PHNOM PENH – For the second straight day, obstacle course racers remained perfect, leading a six-gold medal charge Sunday that kept the Philippines in the mix of things in the 32nd Southeast Asian Games (SEAG) here.
Putting the finishing touches to a scintillating stint in the four-day event, the men's and women's relay teams proved too much for the opposition, taking the last two mints to complete a four-gold sweep, further reinforcing their status as the best in the region.
With another big crowd at the Chroy Chavrang Convention Center Car Park, the men's quartet of Ahgie Radan, Elias Tabac, Mervin Guarte, and Jay-ar de Castro hurdled all the obstacles in a new global standard of 24.47 seconds to beat Malaysia's Ghalib Mohamad Azimi, Mohd Redha Rozlan, Nuur Hafis Said Alwi and Yoong Wei Theng, who clocked 25.15.
Earlier, Sandi Menchi Abahan, Mecca Cortizano, Milky Mae Tejares and Maritess Nocyao reigned supreme in the women's category with a world mark of 33.73 at the expense of Indonesia's Anggun Yolanda, Ayu Pupita, Mudji Mulyani and Rahmayuna Fadillah (35.06).
The other gold medals were delivered by reigning duathlon queen Kim Mangrobang; the women's soft tennis duo of Bien Zoleta-Mañalac and Princess Catindig; jiu-jitsu fighter Marc Lim who finally triumphed in his third SEA Games; and karateka Jamie Christine Lim, who bounced back from her bronze-medal finish in Vietnam last year.
Mangrobang kept her crown in the 5-kilometer (km) run, 20-km bike and 2.5-km run finale at Kep Beach Resort; Zoleta-Mañalac and Catindig completed a championship sweep capped by a 5-2 victory over Chatmanee and Napawee Jankiaw of Thailand in the women's doubles finals; Marc Lim beat Vietnam's Dang Dinh Tung for the men's ne-waza nogi 69-kilogram (kg) gold; and Jamie Lim returned to her rightful place on top of the SEA Games karate world by ruling the women's under-61kg women's individual kumite at Chroy Changvar Center Hall A.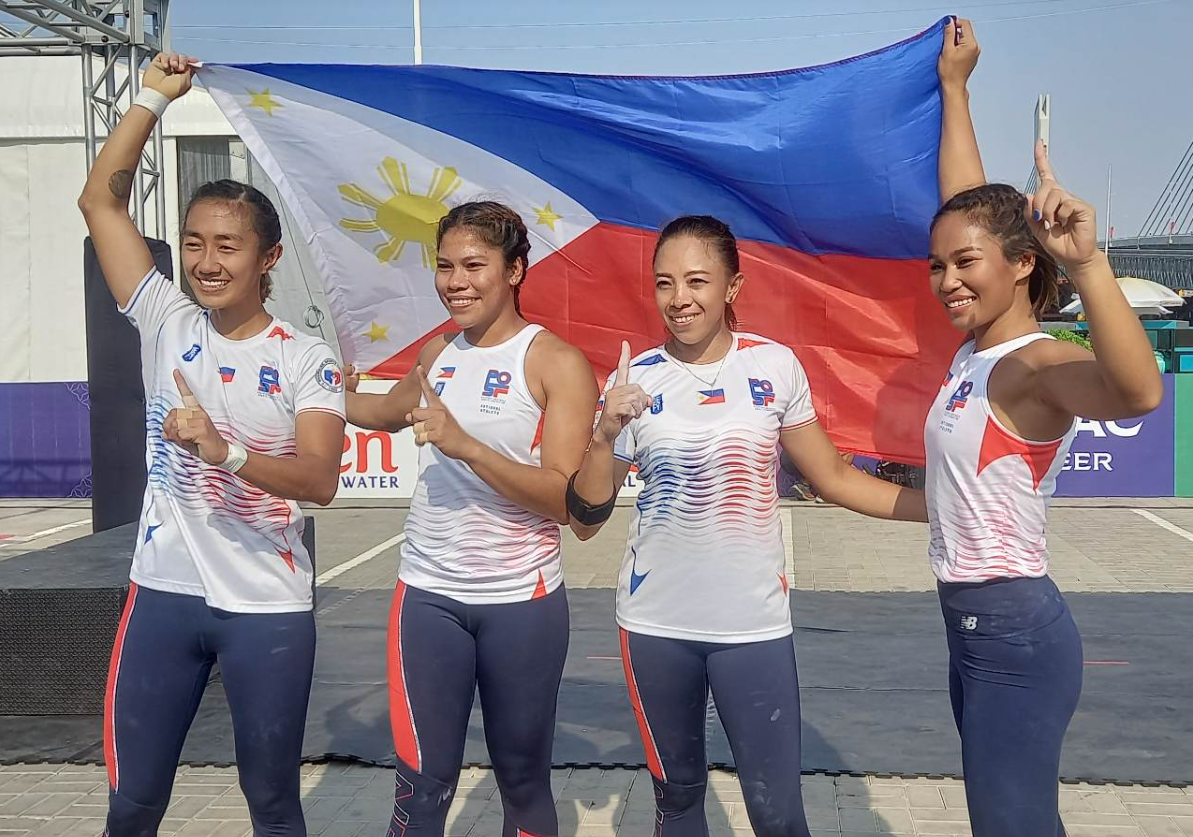 Jamie Lim went home with a bronze in Vietnam last year but regained the crown she won in the Philippines in 2019 when she humbled Cambodian Vann Chakriya in the title match, 3-1.
"I had less (time) for social media, no Tiktok and IG (Instagram) for the last few months but now everything is okay," said Jamie Lim, daughter of Philippine Basketball Association legend Samboy Lim.
The Filipinos, backed by the Philippine Sports Commission and the Philippine Olympic Committee, ended the day with 13 gold medals in a tie with Indonesia for second, just ahead of Vietnam which had 12.
First-time host Cambodia was on top of the heap with 25 gold, 19 silver and 19 bronze medals as of posting time, mainly through its domination of indigenous combat sports kun-bokator, kun khmer and vovinam.
The Filipinos also had 14 silver medals, one of them coming from the Gilas Pilipinas 3x3 men's squad that lost 15-20 to the Cambodian team that featured three naturalized players in Brandon Peterson, Sayeed Pridgett, and Darrin Dorsey.
The women's 3x3 team also lost to Vietnam 16-21 after ousting Thailand 21-19 in the semifinals.
Karate contributed four silver medals for the day, courtesy of kumite fighters Matthew Manantan (men's under-67 kg), Ivan Agustin (under-84 kg), Remon Misu (under-68 kg women) and Ariane Brito (+68kg women).
But Cambodia's bid for a Cinderella finish will be severely tested when the region's big guns, among them the Filipinos, Thais, Indonesians, and Malaysians, press their bids in several martial arts disciplines and athletics, which get going Monday at Morodok Techo Stadium.
Boxers Rogen Ladon and Ian Clark Bautista assured themselves of bronze medals but James Palicte bowed out of contention.
Ladon, winner in 2019 and 2022, overcame the hugging and holding strategy of Indonesian Ingatan Ilahi to score a 5-0 unanimous decision win and advance to the flyweight semifinals against Malaysian Muhammad Abdul Qaiyum Ariffin.
Bautista, a two-time SEA Games gold medalist, beat Van Duong Nguyen of Vietnam via a referee-stopped-contest due to injury after inflicting a cut on his foe's left eyebrow in their featherweight duel. He will face next Asri Udin of Indonesia in the semifinals.
Palicte lost to Van Ratha of Cambodia via split decision in the light welterweight quarterfinals. (POC-PSC Media Bureau)