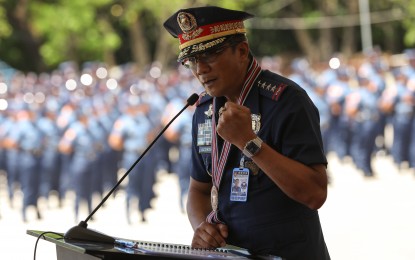 MANILA – More than two weeks after assuming as the country's 29th top cop, Philippine National Police (PNP) chief Gen. Benjamin Acorda Jr. ordered the reshuffle of some senior police officials, including the top three and four posts of the force's command group.
Acorda named Lt. Gen. Michael John Dubria, chief of the directorial staff as the new deputy chief for operations, the PNP's third-highest official, replacing Maj. Gen. Jonnel Estomo, who was reassigned as director of the Directorate for Plans.
Maj. Gen. Emmanuel Peralta vacated his post as chief of the Directorate for Operations (DO) to serve as chief of the directorial staff, the PNP's fourth top post, replacing Dubria.
Estomo will be headed to Directorate for Plans replacing Maj. Gen. Bernard Banac, who will be the chief of Directorate for Information and Communications Technology Management (DICTM) replacing Maj. Gen. Valeriano De Leon, who retired on May 7.
Brig. Gen. Leo Francisco, regional director of Police Region Officein Western Visayas (PRO-6) will be headed to DO replacing Peralta.
The revamp took effect on Monday.
Five-focus agenda
In his first flag ceremony as PNP chief in Camp Crame on Monday, Acorda bared his five-focus agenda which will guide the police organization towards becoming a more effective and efficient force.
Acorda said the five-focus agenda of his stint includes implementation of aggressive and honest law enforcement operations, giving premium to the morale and welfare of police personnel, integrity enhancement, information and communication technology development and boosting of community engagement.
Acorda said part of the implementation of aggressive and honest law enforcement are the relentless campaign against illegal drugs and loose firearms and other illegal weapons as well as the intensified conduct of checkpoint, operations against wanted persons, criminal gangs, organized and private crime groups and other threat groups.
"I am deeply honored and privileged to be standing here today as your new Chief of the Philippine National Police. As we gather for this Monday Flag Raising Ceremony, I am reminded of the significance of this moment and the enormous responsibility that comes with leading one of the country's most revered institutions," said Acorda.
The PNP is in the middle of a controversy following the implication of several policemen, including high-ranking officials allegedly involved in the illegal drugs trade.
President Ferdinand R. Marcos Jr. earlier said he accepted the courtesy resignation of two senior police officials due to their alleged connection to illegal activity.
The two officials were among the over 900 full-fledged police colonels and generals who tendered their courtesy resignation following Abalos' call in the bid to cleanse the police ranks.
"As we progress into the upcoming week, let us always keep in mind the noble purpose of our profession. Let us work together towards a common goal of providing 'Serbisyong Nagkakaisa' -- a united and excellent service to our people," Acorda said. (PNA)