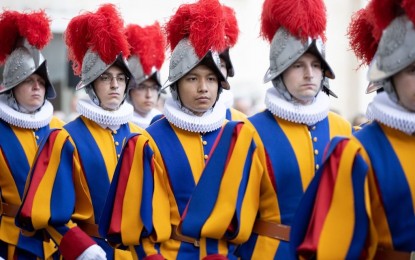 MANILA – A 24-year-old Filipino was among the 23 new recruits of the Pontifical Swiss Guard at the Vatican.
An article posted on the Catholic Bishops' Conference of the Philippines (CBCP) news website on Monday said the Davao City-born Sebastian Esai Eco Eviota together with the other new Swiss Guards joined their ranks in an elaborate swearing-in ceremony at the Courtyard of Saint Damasus on Saturday in Rome.
The men were also joined by their families and delegates of the Swiss Confederation and Swiss Bishops.
The ceremony is held every May 6 to commemorate the heroic sacrifice of 147 Swiss Guards who died protecting Pope Clement VII during the Sack of Rome in 1527.
Prior to the ceremony, the new Swiss Guards celebrated Mass in St. Peter's Basilica, followed by a meeting with Pope Francis in the Apostolic Palace.
The Holy Father urged them to make "good use of the time" of service at the Vatican to deepen and put into practice their Catholic faith.
"Every situation, every meeting can represent an opportunity to put the Gospel of Christ into practice, to learn from him and to live fraternal love in his name and with his Spirit," the pope said.
"Your mission here in the Vatican is a path that the Lord has opened for you to live your Baptism and bear joyful witness to your faith in Christ," the Holy Father added.
Born in 1998, Eviota moved to Switzerland in 2009 together with her elder sister on a family reunion visa. He joined the Youth for Christ, the youth ministry of the Couples for Christ (CFC).
His father Diomedes is from Surigao City while his mother Editha, who passed away in 2000, was from Esperanza town, Agusan del Sur province.
He was a second lieutenant at the Swiss Army before he was admitted to the Swiss Guards in January 2022 to complete his basic training.
Eviota is the second Filipino to be included in the Swiss Guards after Swiss-Filipino Vincent Lüthi, whose mother is from Cebu.
Founded by Pope Julius II in 1506, the Swiss Guards is a military body made up of Swiss citizens, whose main task is to protect the pope and his residence.
Among their duties are also to accompany the pope on apostolic journeys and to protect the College of Cardinals during the vacant see. (PNA)