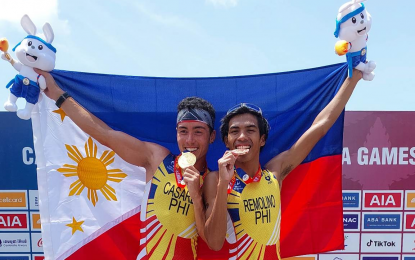 PHNOM PENH – Fernando Casares defended the men's title after Kim Mangrobang failed in her bid for a fourth straight women's individual gold medal in the triathlon event at the 32nd Southeast Asian Games here on Monday.
Casares clocked 58 minutes and 33.5 seconds to clinch the gold medal, defeating Indonesia's Rashif Yaqin (58:47) in the 750m swim-20km bike-5km run contest at Kep Beach Resort.
Andrew Kim Remolino finished third in 59:53 for the bronze, the Cebuano's second medal following a silver finish in men's aquathlon on Saturday.
Mangrobang, who topped women's duathlon on Sunday, clocked 1:07:24 to finish second behind Cambodian naturalized entry Margot Garabedian (1:05:34).
Garabedian is a former French triathlete ranked 190th in the world.
Singapore's Louisa Marie Middleditch reached the podium in third (1:07:24).
The Philippines bagged three out of the possible seven gold medals in aquathlon (3), duathlon (2) and triathlon (2) and a pair of silvers from Remolino in men's aquathlon and Mangrobang.
The PH mixed aquathlon relay team of Erika Burgos, Inaki Lorbes, Kira Ellis and Matthew Hermosa likewise bagged a gold medal over the weekend. (POC-PSC Media Bureau)