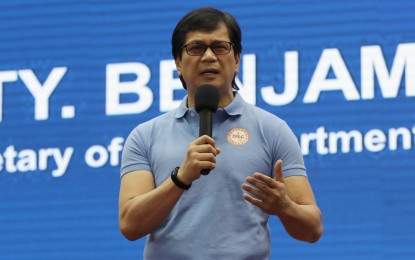 MANILA – Department of the Interior and Local Government (DILG) Secretary Benjamin Abalos Jr. has ordered a probe on the release of service recognition incentive (SRI) to police officers for fiscal year 2022 after reports that some received less than the agreed amount.
Speaking to reporters at the DILG main office in Quezon City on Monday afternoon, Abalos said he would also seek guidance from the Department of Budget and Management (DBM) regarding the policies on the payout of the incentive.
"Papa-imbestigahan muna natin yan within PNP, ibabato din natin kay chief (Gen. Benjamin Acorda Jr.). Pero we should be guided by DBM about this. Kasi it's savings from each department, 'yung mga policies tungkol dito (We will investigate that first within the Philippine National Police, we will also refer that to chief (Gen. Benjamin Acorda Jr.). But we should be guided by DBM regarding this. Because this is based on the savings from each department, those are the policies regarding this)," Abalos explained.
President Ferdinand R. Marcos Jr., through Administrative Order (AO) No. 1, authorized in December last year the release of a one-time SRI for employees in the executive branch in recognition of the collective and invaluable contribution to the government's continuing efforts to ensure the responsive delivery of services, especially in the midst of the public health emergency due to the coronavirus disease 2019 pandemic and other socio-economic challenges.
The AO authorizes the grant of a one-time SRI at a uniform rate not exceeding PHP20,000 for those working under the executive department.
In January, then PNP chief Gen. Rodolfo Azurin Jr. said that based on the report received from the PNP Finance Service, all qualified personnel received a uniform rate of PHP7,000 as per the available released agency fund for Personnel Services and Maintenance and Other Operating Expenses.
However, a column published in a news website on May 5 claimed that some PNP personnel received an SRI of just PHP4,000.
The PNP earlier issued a memorandum circular prohibiting its personnel from posting grievances on social media, particularly on the grant of SRI 2022.
"The above administrative order (AO 1) was issued purposely to grant incentives (SRI) to reward employees' loyalty to government services and contribution to the agency's continuing viable existence. Incentives as rewards for exceeding agency's financial and operational performance targets to motivate employee efforts toward higher; and after existing benefits to be categorized by the Department of Budget and Management as incentives," read the memorandum.
"However, recently it has been observed that some members of the PNP who were dissatisfied with the amount given to them expressed their grievances in the social media, lambasting the PNP organization while using their personal social media accounts, which is not acceptable practice since there is an existing internal mechanism for grievances." (PNA)