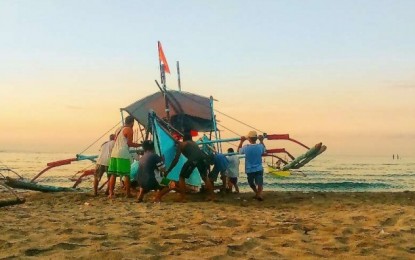 CALAPAN CITY, Oriental Mindoro – The provincial government here is getting ready to give out fuel subsidies to oil spill-affected fishermen in at least seven coastal towns after the go-signal was given for them to resume their fishing activities.
In an interview on Tuesday, Maraya Latorda, special assistant to the governor, said it is still being determined "whether the assistance will be distributed to fisherfolk in cash or in kind."
She said representatives of the provincial governor are currently in talks with the intended beneficiaries to determine how they prefer to receive government's assistance for fueling their boats.
Latorda assured that the yet undetermined amount of subsidy will be given out as soon as some bureaucratic matters are ironed out, because it is understood that the fishermen have been out of work for over two months, and may not have enough money for fuel.
The matter of doling out fuel assistance arose after Governor Humerlito Dolor on Monday lifted the fishing ban on seven coastal municipalities after their waters were found to be acceptably free of petroleum contaminants.
Fishermen are again free to resume their livelihood in the towns of Baco, Bongabon, Bulalacao, Mansalay, Puerto Galera, Roxas, and San Teodoro.
However, the fishing ban stays in the waters off the coasts of Bansud, Gloria, Naujan, Pola, and Pinamalayan, as well as the capital Calapan City, according to the governor.
Meanwhile, the distribution of relief goods in oil spill-affected towns will continue despite the resumption of subsistence fishing in select parts of Oriental Mindoro.
"We are still distributing relief goods in communities affected by the oil spill despite the fishing ban being lifted in some areas," Lemuel Andaya, an official at the Provincial Disaster Risk Reduction Management Office, said in Filipino.
In addition to the seven coastal towns now cleared for fishing activities, the Bureau of Fisheries and Aquatic Resources recently designated the waters of Abra de Ilog, Paluan, Magsaysay and San Jose as alternative fishing grounds for displaced fishermen.
The oil spill was caused by the sinking of MT Princess Empress off Naujan, Oriental Mindoro while carrying 800,000 liters of oil last Feb. 28. (PNA)