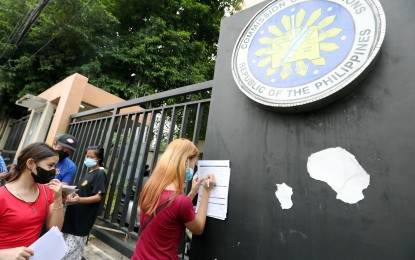 MANILA – A senator announced on Tuesday that a resolution has been filed seeking to conduct an inquiry in aid of legislation into the alleged fraudulent voters' registration for the Barangay and Sangguniang Kabataan Elections (BSKE) in October.
Senate Resolution No. (SRN) 592 filed by Senator Imee Marcos cited a report on March 31, 2022, saying that the Commission on Elections (Comelec) detected 892,627 double registrations for the 2022 National and Local Elections.
Then Comelec Commissioner George Erwin Garcia assured that charges would be filed against double or multiple registrants and noted that "good faith" is not a good defense in election cases.
"Despite earnest efforts of the Comelec to enforce the law, problems pertaining to the so-called flying voters or voters who are registered in multiple precincts, and those who are not bona fide residents of the place where they are registered in, still persist," Marcos said.
SRN 592 also cited the case of Barangay Carmona in Makati City where the number of registered voters and registration applicants surged by 78 percent.
From just 4,718 registered voters during the 2022 national elections, it bloated to 8,415 for the upcoming 2023 BSKE.
Barangay Carmona chairperson Joselito Salvador attested that there was neither a recent mass migration of new residents into the village nor an increase in its territory.
Salvador said the sudden rise in the number of voters could thus not be accounted for.
"There is an urgent need to revisit existing election laws, including the Voter's Registration Act of 1996 and relevant portions of the Omnibus Election Code in order to decisively address these long-standing issues," said Marcos, who chairs the Senate Committee on Electoral Reforms and People's Participation. "We cannot allow these massive fraudulent voter registrations to go unchecked and become a permanent fixture in our electoral system."
In a statement last week, the Comelec clarified that "the Election Registration Board found that the applications for voter registration in Barangay Carmona were filed by its genuine and actual residents and constituents," noting that all applicants are required to go through the automated fingerprint identification system to avoid double registrants. (PNA)