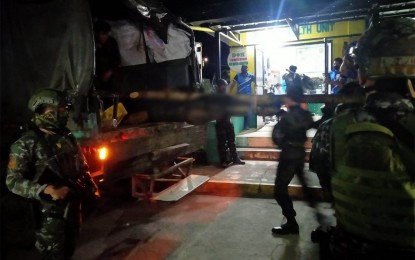 TACLOBAN CITY – The Philippine National Police (PNP) will investigate the recent clash between government forces and armed rebels in Palapag, Northern Samar that killed two alleged members of the New People's Army (NPA).
Lt. Col. Alberto Renomeron, chief of the Northern Samar police's investigation and detection management unit, said in a press briefing Tuesday that the public could expect a fair investigation of the May 5 incident.
"Even without (a) private complainant, we have a motu proprio investigation. We will assign investigators to gather statements from complainants. It will be an impartial investigation," Renomeron said. "Relatives are free to file formal complaints and it's up (to) the court to decide."
Reacting to claims of relatives that the two slain men were not rebels, police and military said the two casualties have been positively identified as NPA rebels.
"On May 5 (at) around 5:05 p.m., our troops had a clash with six NPA members. The rebels fired the first shot and our commandos returned fire, ensuing a gun battle," said Maj. Mark Henry Garcia, acting commander of the PNP Special Action Force (SAF) 12th special action battalion.
Killed during the firefight on the outskirts of Capacujan village in Palapag were Joel Balading Recare and Oscar Alastoy.
Since last week, their friends and relatives have been expressing outrage on social media, demanding justice for the deaths of the two who they said were in the forest on May 5 to cut trees as loggers.
The alleged armed rebels clashed with 16 policemen joining a test mission. The operation was part of training for policemen to qualify as PNP-SAF commandos.
Col. Efren Morados, commander of the Philippine Army's 803rd Infantry Brigade, said SAF commandos were in the area to augment the military force tasked to suppress the insurgency.
"Prior to the May 5 encounter, there have been sightings of armed men in Capacujan, there were meetings of NPA in the area, and we have drone shots confirming the presence of armed men," Morados said. "I just don't know why they carried firearms and did not inform the Philippine Army that they're heading to the mountain to cut trees."
Palapag town Mayor Florence Batula has sympathised with the families of the slain men and called for an impartial investigation.
Palapag, a third-class municipality with a population of more than 34,000, is one of the oldest settlements on Samar Island. (PNA)