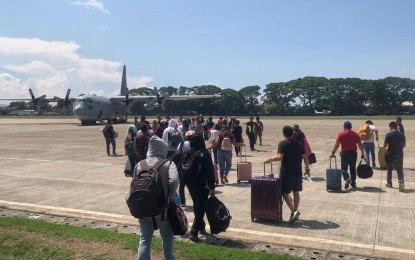 DUMAGUETE CITY – New witnesses are set to testify during the resumption of the Senate hearings on the assassination of Governor Roel Degamo last March and various other killings in Negros Oriental over the past several years.
This comes after additional cases of killings in the province have been added to the list, which the Senate is already looking into.
About 70 people, including the slain governor's widow, Pamplona Mayor Janice Degamo, boarded a C-130 Air Force aircraft at the Dumaguete-Sibulan airport at past 1 p.m. on Tuesday, en route to Metro Manila.
The Senate is scheduled to hold an executive session on Wednesday and committee-level hearings on Thursday and Friday.
Col. Alex Recinto, acting police provincial director, told reporters that he and a few other police officers from Negros Oriental have also been summoned to the proceedings, as previous killings even before his time are now included in the probe.
In a statement, the Pamplona mayor commended "the courage of these new witnesses who have come forward after witnessing the Senate Hearing weeks ago."
"Their bravery will help bring justice and truth to light, and will hopefully serve as an inspiration to others to speak up and stand up for what is right. We cannot be forever terrorized. We need your prayers," the governor's widow added. (PNA)