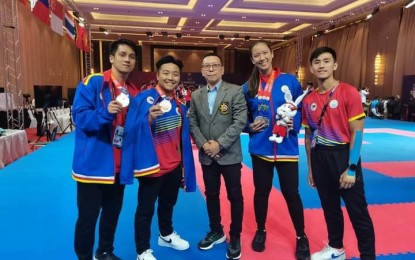 DAGUPAN CITY – Three residents here have brought glory and honor to the country and home city by contributing to the medal haul of the Philippine Karate team in the South East Asian (SEA) Games 2023 in Cambodia.
Karateka John Matthew Manantan captured silver in Karate Men's 67 kilograms (kg) individual Kumite; Arianne Isabel Brito earned a silver medal in the plus 68 kg individual Kumite, and another silver in the female team Kumite, together with Jamie Lim, Lemon Misu, and Junna Tsukii; while John Enrico Vasquez won bronze in the men's individual Kata category.
Their fellow Dagupeño Jayson Macaalay missed out on a podium finish.
All four athletes are students of Alejandro Vasquez at the Filipinas Wado Ryu Karatedo Renmei based in this city.
Vasquez is elated with the accomplishments of his protegees, including his son, John Enrico.
"These are fruits of their years of training and discipline, as well as their training with the national team," he said in an interview on Tuesday.
Jayson, Arianne, and Matthew, together with the rest of the Kumite team, had a three-week training in Turkey in preparation for the SEA Games.
"Their training was funded by the Philippine Sports Commission. Joco came from Toronto, Canada where he is an athlete-student at the St. Claire College Toronto," Vasquez said.
He thanked the athletes' parents for their full support from the time they started karate training.
Vasquez said Manantan started in karate at 8 years old and this is now his second SEA Games participation.
"It is a comeback win scoring because last Vietnam SEA Games, he failed to win a medal," he said.
Manantan's older brother, Mark Andrew, also played with the national team in the past SEA Games.
It is a big win for Brito as this is her first SEA Games. She also started her karate lessons at 8 years old. John Enrico or Joco started at 3 years old.
"This is Joco's third SEA Games. He won two Bronze medals in 2019 for his individual event and another bronze in the team Kata for another bronze. Macaalay, on the other hand, had won medals in the previous SEA Games," he said. (PNA)