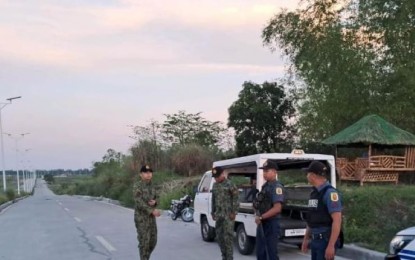 BACOLOD CITY – All stations of Bacolod City Police Office (BCPO) are conducting round-the-clock mobile and foot patrol operations as part of the intensified security measures and anti-criminality campaign in the city.
Col. Noel Col. Noel Aliño, acting city director, said on Tuesday he ordered the commanders of the 10 police stations and other units to increase visibility and set up standby points in their respective areas of jurisdiction.
"This pertains to the program of Mayor (Alfredo Abelardo) Benitez of a safe and secure Bacolod City on its way to becoming a super city," he added.
Aliño said the command directive of Brig. Gen. Leo Francisco, regional director of Police Regional Office-Western Visayas, also requires high degree of alertness, readiness and preparedness of the BCPO.
Early morning on Tuesday, personnel of Police Stations 9 and 10 have been deployed at standby points along the Bacolod-Negros Occidental Economic Highway in Barangays Cabug and Felisa, respectively.
Around noon, the Bacolod City Mobile Force also deployed its personnel along the Palanca Road at the Reclamation Area.
On Monday, Benitez directed the BCPO to conduct a thorough investigation into the incidents of decomposing bodies being dumped along the Bacolod-Negros Occidental Economic Highway.
In a press briefing, the mayor said the city police should step up efforts to determine the identities of the victims.
Benitez said Aliño told him the victims could not be from Bacolod since there have been no reports of missing persons here.
"I will give them more time to perform. Of course, it's the concern of everybody, so it should not happen again," the mayor added.
The latest incident was on May 2 when the decomposing body of a man was found inside a sack left in the area of Purok Ipil-Ipil in Barangay Cabug.
Also on April 30, two cadavers were found inside a culvert pipe at Hacienda Sayson, Barangay Felisa. (PNA)