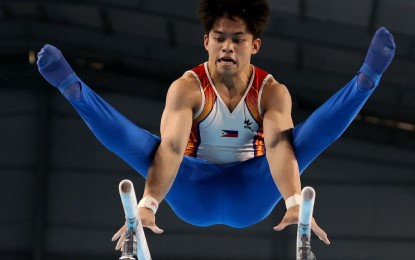 PHNOM PENH – Two-time world champion Carlos Yulo led the Philippines to three more gold medals in artistic gymnastics Tuesday in the 32nd Southeast Asian Games at the National Olympic Stadium here.
Yulo made up for his silver-medal finish in the rings by topping the parallel bars with a score of 14.850, ahead of Vietnamese Phuong Thanh Dinh (14.400) and Malaysian Ng Chun Chen (13.100), to become the first Filipino double gold medalist.
He won the men's individual all-around gold on Monday.
Yulo admitted he was challenged by his teammates' early victories in the other apparatuses.
"When Ivan (Cruz) and Miguel (Besana) won gold medals, I really tried hard to win a gold so we can take home three," said Yulo, who scored 14.000 in the rings.
Cruz, a second cousin of Yulo, topped the floor exercise with 13.850 points while Besana dominated the vault with 14.425 points.
The national artistic gymnastics team ended its campaign with four gold and two silver medals, the other silver coming from the men's team event also on Monday.
Four bronzes in pencak silat
Four Filipino pencak silat aces settled for bronze medals after losing their semifinal matches in the tanding competitions.
Angelone Abardo Virina, competing in the female Class A division (45k to 50kg), absorbed a 26-57 loss to Indonesia's Nadhrah Binte Sahrin and bowed out of the gold-medal match.
Rodgielyn Parado suffered the same fate in Class C (55-60kg) at the hands of Thi Cam Nhi of Nguyen of Vietnam 23-29.
It was a similar scenario in the male division for Gregmart Benitez (Class C) and Ian Christopher Calo (Class E or 65 -70kgs).
Thailand's Phiraphon Mittasan shut the door on Benitez 20-0 while Indonesian Tito Hendra Kurnia sent off Calo 45-21.
The four joined the silver-winning men's artistic ganda double tandem of Alfau and Almohaidib Abad and the third-placed women's artistic regu team of Franchette Elman, Sharia Jizmundo and Jessapituan dela Cruz in Team Pencak Silat's honor roll.
Four more tanding fighters are seeing action in the semifinals in Angel-Ann Singh (Female Class D), Dines Dumaan (Male Class A), Denmark Abduradad (Male Class D) and Joash Cantoria (Male Class H).
They shoot for a finals seat against Indonesia's Atifa Fismawati, Vietnam's Van Thong Bui and Duy Tuyen Nguyen, respectively.
Elusive gold
Woman International Master Shania Mae Mendoza delivered the Philippines' fourth chess medal, a silver, following a second-game setback to Doan Thi Hong Nhung of Vietnam in the chess competition.
The two split the point in the first game, before Doan secured the win, and the gold in the women's singles 60-minute event.
It was the Philippine team's third medal in the ouk chaktrang event following the bronze of Venice Vicente in the men's side and the silver of Mendoza and Woman Grandmaster Janelle Mae Frayna in the double 60-minute play.
The fourth medal is a bronze from the men's quadruple 60-minute, courtesy of Grandmasters Joey Antonio and Darwin Lalylo, and International Masters Paulo Bersamina and Jan Emmanuel Garcia.
The Philippines shoots for the elusive gold on Thursday as Jackson Hong and IM Angelo Young plunge into action in the men's singles, and WIM Marie Antoinette San Diego begins her campaign in the women's five-round singles.
Young and Jackson return to the chess hall in the rapid team event on May 14, to be followed by Bersamina and Garcia in the blitz team on May 15.
In golf, Paolo Wong failed to recover from a frontside struggle and faltered with a 75, tumbling from joint third to a share of 19th in men's play, while the ladies tandem of Lois Kaye Go and Rianne Malixi stayed too far behind despite a pair of 68s in the second round.
Although Enrique Dimayuga bounced back strong from an opening 73 with a near-impeccable 68 in hot conditions, the new national team member remained seven strokes adrift of a steady Khanh Hung Le, who broke away from a first-round tie with Malaysian Malcolm Hung with a 65 behind a solid eagle-spiked backside 31.
The Vietnamese took the solo lead with a 10-under 134 total but braced for a daunting challenge in the last 18 holes as Ratchanon Chantananuwat bettered Le's seven-under card with a 64, also highlighted by an eagle on the par-5 No. 11, as the fancied Thai, winner of an Asian Tour event last year, moved threateningly close at 136 for joint second with Malaysian Anzon Xiang, who also shot an eight-under card.
Hung slipped to fourth at 137 after a 68 even as Dimayuga moved from tied 15th to a share of seventh with Vietnam's Dang Minh Nguyen, who shot a 69, but seven shots behind Le at 141.
Aidric Chan, the other member of the national team backed by the Philippine Sports Commission and the Philippine Olympic Committee, also recovered with a 68 but still stood far off at joint 15th at 144 while Wong fumbled with a frontside 39 marred by a double-bogey on the par-5 No. 8 to fall to a share of 19th with teammate Jaden Dumdumaya, who carded a 71.
In women's play, Thai Eila Galitsky moved on the threshold of an expected gold medal finish with a 66 as she grabbed the lead at 135, one stroke ahead of erstwhile leader Ng Jing Xuen of Malaysia, who slowed down with a 69 after a 67 for a 136, setting the stage for a final round shootout with the reigning Women's Amateur Asia Pacific champion.
Singapore's Aloysa Atienza rallied with a 68 to seize solo third at 139 but remained four strokes off Galitsky while Go and Malixi improved to a share of fifth at 142 with Navaporn Soontreeyapas, also of Thailand, who put in a 70, behind the fourth-running Foong Zi Yu of Malaysia, who assembled a 141 after a 69.
Go pressed her bid with a fiery backside 32 but settled for a one-bogey, one-birdie card at the front for a 68 while Malixi birdied three of the last five holes to submit her own version of a four-under round.
But with 142s, the Pinay aces need to go low in the final round to fan their hopes for a medal finish in individual play.
Mafy Singson, meanwhile, groped for a 76 and dropped to joint 14th at 151.
The gold medal chase in team competitions, to be played under the match play format, will start Thursday. Malixi chipped in for birdie to beat Singapore's Suanne Loh and snatch a bronze medal for Team Philippines in Vietnam last year. (PR)