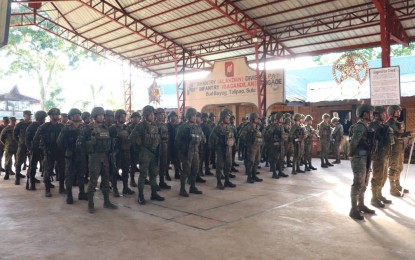 MANILA – The Philippine Army (PA) announced that the 4th Special Forces Company (4SFC) has been selected to be part of its United Nations (UN) Light Infantry Battalion (UNLIB), which is earmarked for peacekeeping missions.
"The 4SFC of the 2nd Special Forces Battalion, Special Forces Regiment (Airborne) played a vital role in battling the Abu Sayyaf Group," Army spokesperson Col. Xerxes Trinidad said in a statement forwarded to reporters Wednesday.
Trinidad said the 1101st Infantry Brigade of the 11th Infantry Division held a send-off ceremony for the 4SFC after the unit's selection for PA UNLIB duty at its headquarters in Bud Bayug, Barangay Samak, Talipao, Sulu on May 8.
He added that the unit also spearheaded developmental efforts in the towns of Parang, Siasi, Pandami, Tapul, Lugus, and Pata in Sulu and has been very efficient in these tasks.
"The Army leadership lauded the 4SFC for their successful role in ensuring internal security in their area of responsibility. The Army leadership also emphasized the needed character and discipline that they must develop and maintain for them to accomplish their future missions as part of the PA UNLIB," he added.
Trinidad said the 4SFC would undergo a series of training, seminars, and workshops to increase their readiness before deployment.
4SFC to be consolidated in Nueva Ecija
In a message to reporters, Trinidad said the 4SFC will be initially consolidated in Fort Magsaysay, Nueva Ecija.
"Members of 4SFC will undergo a series of trainings, seminars and workshops to increase their readiness prior to their deployment as part of the Philippine Army's United Nations Light Infantry Battalion (PA UNLIB). According to the UNLIB Training Program, approximately six to seven months is required for an infantry battalion to train and prepare for peacekeeping operations," he added.
The UNLIB serves as the backbone of United Nations peacekeeping operations.
UNLIB personnel risk limb and life to protect conflict-affected civilians and restore stability in war-torn societies.
"As of date, there is still no specific area of deployment for the PA UNLIB contingent," Trinidad said. (PNA)