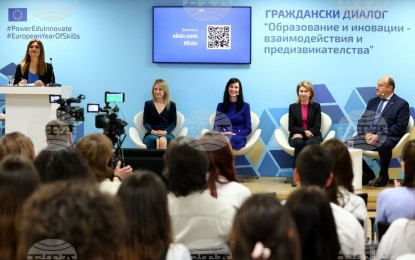 SOFIA, Bulgaria – Innovation is needed so that solutions for the digital and the green transitions can benefit people's daily life, EU Commissioner for Innovation, Research, Culture, Education and Youth Mariya Gabriel said Tuesday during a forum, held in Sofia, on the occasion of the Day of Europe.
She added that prepared people with skills and knowledge are needed at this moment. A civic dialogue on the topic of education and innovation, the challenges before them and the interaction between them, was organized on the occasion of the Day of Europe.
The forum aims to emphasize the challenges and opportunities for Bulgaria in the field of innovation and education, as well as key EU initiatives and programmes.
Participants in the discussion were EU Commissioner Gabriel, Sofia Technical University Rector Prof. Dr. Eng. Ivan Kralov, Gabrovo Mayor Tanya Hristova and Junior Achievement Bulgaria Executive Director Milena Stoicheva.
The meeting was attended by school principals, university rectors, representatives of the business and various associations in Bulgaria, students and pupils from all over the country.
The discussion focused on innovation, education, entrepreneurship and regional innovation ecosystems.
The event was broadcast live on the Bulgarian National Television and on the Facebook page of the European Commission Representation in Sofia.
"Education and innovation in their interaction provide opportunities for everyone - for citizens, for regions, for the economy, for us as a society, for us as the country Bulgaria, for us as the continent Europe, Gabriel said.
She highlighted three aspects of the interaction, which are opportunities and challenges - schools and universities as part of the innovation ecosystem, the regional and local dimension of the topic, and the need for targeted investment and dialogue. (BTA)