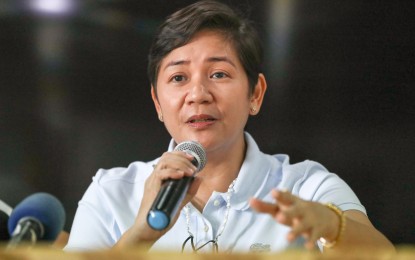 MANILA – The disqualification of Carmen Geraldine Rosal as candidate for mayor of Legazpi City in the May 9, 2022 polls is now final and executory, the Commission on Elections (Comelec) said on Wednesday.
In a press statement, the poll body said its en banc's May 4 decision disqualifying Rosal became final after as they did not receive any restraining order from the Supreme Court (SC).
"With the case records showing that the en banc resolution has been duly served to the parties on 4 May 2023, and with no restraining order having been issued by the Supreme Court to date, the same has become final and executory with the issuance of the Certificate of Finality, and will be entered in the Book of Entries of Judgment," the poll body said in a statement.
"Now, therefore, in view of the foregoing, the Resolution of the Commission (En Banc) promulgated on 04 May 2023 is hereby declared final and executory under the Comelec Rules of Procedure."
Earlier, the Commission en banc said the order would become final and executory after five days from receipt of the parties, unless the High Court issues a TRO.
On the other hand, Comelec chairperson George Garcia noted that the Certificate of Finality issued by the poll body would not yet remove Rosal from her post until the Writ of Execution for the decision on the disqualification case has been issued.
"I will issue the Writ tomorrow, to give the respondent an opportunity to reiterate the prayer for injunctive writ in the SC. To my mind, as a former practitioner, this is part of due process. Our resolution should be the full subject of scrutiny of the SC," Garcia added.
In its May 4 ruling, the Comelec en banc affirmed the disqualification of Rosal as mayoral bet in Legazpi City in the May 2022 polls.
They found Rosal liable for giving money to influence, induce, or corrupt the voters during the conduct of the two-day Tricycle Driver's Cash Assistance Payout in the city on March 31, 2022, which violates Section 68(a) of the Omnibus Election Code.
In the same ruling, the poll body also ordered the proclamation of Alfredo Garbin Jr., who was the runner-up in the polls, as the duly-elected mayor of Legazpi City. (PNA)