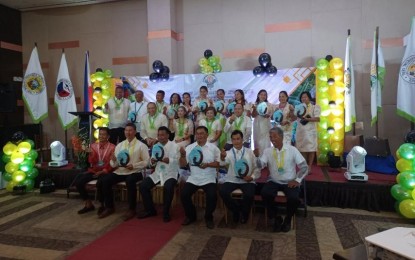 CEBU CITY – A regional agriculture official on Wednesday called on local governments in Central Visayas to support local food production programs to ensure the country's food security.
Angel Enriquez, regional executive director of the Department of Agriculture (DA)-Central Visayas, made the appeal as she led other agriculture officials in handing over the 2022 Gawad Saka Awards to seven farmers and three organizations for their "dedication and hard work in ensuring that ensuring every Filipino will have food on their table."
"I encourage LGUs to support agriculture… Food security is everybody's concern. We can contribute to food security, it's not only (a concern of) DA and the farmers," Enriquez said in her speech during the awarding ceremony on Wednesday at the Bayfront Hotel here.
Enriquez cited the National Urban and Peri-Urban Agriculture Program under Memorandum Order No. JL 7 issued in 2022, promotes farming in urban areas, which, she said, is the best project that LGUs should support.
The regional agriculture official also called Central Visayas local officials to prop up the advocacy of conserving and preserving the "last remaining agricultural areas in the country."
"We have to ensure that there will still be areas (that are) arable, particularly for rice. Otherwise, we might be having a problem in the coming years," she pointed out.
DA-7 regional technical director Joel Elumba, in his remarks, described the farmers as "real modern heroes" because of their great contribution to the food security program of President Ferdinand Marcos Jr.'s administration.
Three organizations – Bonga Waling-Waling Rural Improvement Club of Siquijor, Kapunungan sa mga Kabatan-onang Ata sa Barangay Canggohob of Mabinay, Negros Oriental, and Pestales Agriculture Cooperative – were 2022 Gawad Saka Awardees.
Sheila Mae Baldadlo of Mabinay was hailed as young farmer; Nunelito Ven
Garrote of Cortes, Bohol as small animal raiser; and Vicente Rosales Jr. of Ubay, Bohol as large animal raiser of the year.
Arlene Baculi of Ubay was awarded as regional outstanding rural woman, and her runner-up was Vilma Ynot of Daanbantayan, Cebu.
Nestor Villaflores of Negros Oriental was awarded as provincial artificial insemination coordinator while Johnny Samson of Bohol was AI coordinator of the year.
Nine Cebu-based media outfits, including the Philippine News Agency (PNA), received an award for helping the agriculture sector in the information dissemination efforts. (PNA)