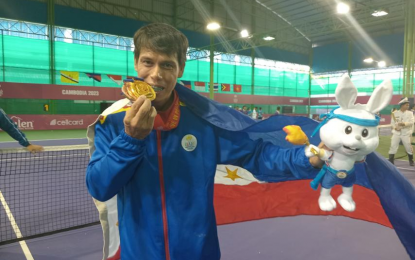 PHNOM PENH – Joseph Arcilla bucked cramps to crush Muhammad Anugerah of Indonesia, 4-1, in the finals as he secured the Philippines' third gold medal and the unofficial overall championship in the 32nd Southeast Asian Games' soft tennis competition at the National Olympic Stadium here on Wednesday.
Ageing like fine wine, the 37-year-old Arcilla, who is backed by the Philippine Sports Commission (PSC) and the Philippine Olympic Committee (POC), ramped up his championship run by whipping hometown bet Yi Keaverak, 4-2 (7-4), at noon time in Group A prelims.
He followed it up with a 4-1 shellacking of Laos' Lekki Vongphakdy, before surviving his longest match in the tournament, a close 8-6 victory over Thailand's Kawin Yannarit en route to the gold-medal match against the Indonesian.
"Nahirapan ako sa Thai at inabot kami ng 8-6, kaya pagkatapos ng game, nagka-cramps talaga ako. Meron pa rin siya sa final game. Pero inisiip ko na lang ang sinasabi ng psychologist namin na dapat laging think positive 'pag nasa loob ng court. (I had difficulty against the Thai, that's why we reached 8-6. This is the reason why I had cramps after the game and in the finals. But I just always remember what our psychologist told us, to just think positive when inside the court)," Arcilla said in a news release.
The win allowed Arcilla to retain the men's singles title and the Philippines to rule the soft tennis competition here as the Filipinos surpassed their 3-0-1 gold-silver-bronze haul during the 2019 PH SEA Games, with their 3-1-1 harvest this time around.
The Cambodians finished second with a 2-2-4 tally, followed by Indonesia at 2-2-1.
Arcilla also led the Philippines to the men's team bronze, with PSC commissioners Fritz Gaston and Wawit Torres cheering them on.
Meanwhile, Bambi Zoleta fell to Indonesian Dwi Pitri in the women's singles, 4-3 (7-4), to settle for the silver.
Zoleta is part of the PH women's team that grabbed a gold on Tuesday, with Christy Sañosa, Fatima Ayesha Amirul, Noelle Conchita Mañalac and Virvienica Isearis Bejosano, and doubles champion Bien Zoleta-Manalac and Princess Catindig. (PNA)