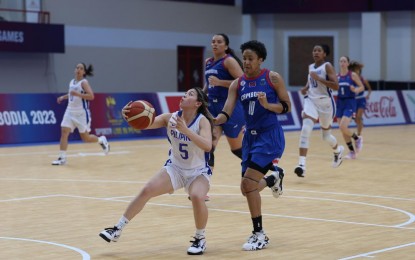 PHNOM PENH – Veteran Joseph Arcilla delivered a gold medal in soft tennis Wednesday, averting what could have been a gold-medal shutout as the Philippine drive sputtered in the 32nd Southeast Asian Games here.
While the gold medal machines of Vietnam and Thailand were in full production mode, powering the two countries to the top two slots five days after the games officially started, the Philippines slipped to fifth overall from fourth last Tuesday, raising concerns whether Pinoy athletes can muster enough strength to duplicate the country's 52-gold haul last year in Vietnam, good for fourth in the medal tally.
As of 8:30 p.m., Vietnam showed the way with a harvest of 42-41-52, with Thailand close behind (41-31-50), followed by host Cambodia (40-39-45) and Indonesia (30-28-54).
In contrast, the Philippines only had 26 gold medals to show, along with 40 silver and 49 bronze medals.
The 37-year-old Arcilla's medal win, the country's third in soft tennis, enabled Pinoy netters to secure the unofficial overall championship in the discipline but this hardly made up for the failure of the delegation to sustain its medal drive in other fronts, especially the medal rich sports of athletics and swimming.
A day after finally becoming a SEA Games champion in long jump, Janry Ubas settled for second in the decathlon, one of four won so far by Pinoy athletes at press time, while John Cabang won a bronze in the 100m hurdles.
Pinoy swimmers were limited to one medal, a bronze, courtesy of Jarond Lang Hatch in the men's 50m butterfly.
Gilas Pilipinas opened its bid for a third straight women's basketball crown, whipping Cambodia 114-54 at the Morodok Techo Elephant Hall 2.
Ella Fajardo had 17 points while Jack Animam added 16 points for Gilas Women, who used their pressing defense to take advantage of the lean Cambodian team relying mostly on their naturalized players.
"That was the game plan," said Gilas Women coach Pat Aquino, referring to their pressure defense. "I think we have the fresher legs. I think they had a hard time last night in their game against Malaysia. That was our advantage."
Cambodia absorbed its second straight loss after a 101-107 defeat to Malaysia last Tuesday.
Fajardo had 12 points in the first half that saw Gilas outscore Cambodia, 36-11, for a 58-31 halftime lead.
Gilas will play six successive days during the tournament, and is set to face Singapore Thursday at 3 p.m. (4 p.m. Philippine standard time) for its second game.
The Gilas men will be severely tested Thursday when the squad battles the naturalized-heavy Cambodian side, with the winner likely to gain the inside track in the battle for the gold.
Raising hopes of a Pinoy fightback were the boxers, with seven of them advancing to the finals. (PNA)