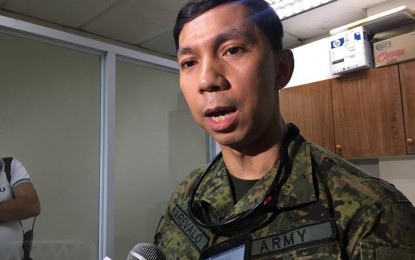 CEBU CITY – The few remaining members of the New People's Army (NPA) in the Visayas are now in disarray and getting tired of moving from one place to another as the Communist Party of the Philippines (CPP) faces a leadership vacuum following the deaths of its founder Jose Maria Sison and key leaders.
"Due to the leadership vacuum that the CPP–NPA is suffering coupled with the active support of the community to the security efforts of the government forces, the few remaining members of the terrorist group remain in disarray and with no clear direction," Visayas Command chief Lt. Gen. Benedict Arevalo said in a statement Thursday.
He said that the communist terrorists "are tired due to constant movement having no safe place to hide."
Arevalo also lauded government troops for dealing with the CPP-NPA in Northern Samar, resulting in another huge blow in just a span of 10 days, making their morale "very low as attested by the former rebels who recently returned to the folds of the law."
After the April 30 encounter that killed seven NPA rebels and seizure of four high-powered firearms, soldiers from the 74th Infantry Battalion and a group of NPA terrorists under Front Committee (FC) 15 of the Sub-Regional Committee (SRC) Arctic of the Eastern Visayas Regional Party Committee (EVRPC) engaged in an encounter on Wednesday at Barangay Magsaysay, Mapanas in Northern Samar.
The encounter lasted for about 20 minutes and resulted in the recovery of 15 firearms and war materiel, which include two M14 rifles, two AK47 rifles, two M16 rifles, two M4 rifles, one Ingram, one Uzi submachine gun, one homemade shotgun, three .45-caliber pistols, one .38-caliber revolver pistol, bandolier, 12 backpacks and subversive documents.
"I commend our troops for their steadfast commitment to our mandate of ending the local communist armed conflict in the Visayas region. These series of setbacks suffered by the CPP-NPA is a clear manifestation of how serious we are in delivering justice for our people," Arevalo said.
Arevalo said it is not too late for the remaining NPA fighters in the mountains of Samar and Negros Island to give up their lost cause.
"We know that you are tired and anxious. It's not too late for any of you. You still have the chance to make a difference and change the course of your life," he added. (PNA)