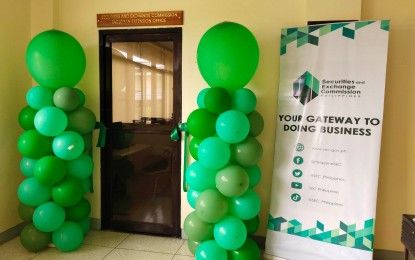 PALO, Leyte – The Securities and Exchange Commission (SEC) formally opened Thursday its extension office in Eastern Visayas, ramping up its service in the region.
"Today, we are not only celebrating the inauguration of the SEC Tacloban extension office but also ushering in an even more conducive and more robust environment for business and investment in Eastern Visayas," SEC chairperson Emilio Aquino said in his speech as the agency's Tacloban extension office at the second floor of the National Economic and Development Authority (NEDA) regional office building in Palo, Leyte, was formally inaugurated.
The field office is expected to address the business registration needs and investment activities in the region, given the rising level of economic activity and the presence of economic zones in the region.
As of May, 10,456 corporations registered with the SEC in the six provinces of Eastern Visayas. Companies previously had to travel to the SEC Cebu office to avail of the SEC's services.
"Pursuant to the SEC's mandate of championing the corporate sector, the extension office will serve as a gateway to doing business in Eastern Visayas," Aquino said.
The setting up of a new office will reduce the cost and the inconvenience of establishing and maintaining a corporation, partnership, or association in Leyte and Samar provinces, he said.
Businessmen in the region, he added, would not have to travel to Cebu City to access SEC services and procure corporate franchises, as well as the secondary licenses issued by the Commission.
Leyte Governor Carlos Jericho Petilla has welcomed the decision of the SEC to set up an office in the region.
"This will encourage businesses to put up their head office in the region, changing the economic landscape of the region," Petilla said.
Also present during the event were SEC Commissioners Javey Paul Francisco, Kelvin Lester Lee, Karlo Bello, and McJill Bryant Fernandez, as well as the respective directors of all SEC departments.
The decision to set up an office is in response to Resolution 10, series of 2021 of the Regional Development Council, endorsing the establishment of the SEC Tacloban Extension Office, which is embodied in its Jan. 24, 2022 letter.
The SEC Tacloban office is the Commission's 10th extension office in the country after Baguio, Tarlac, Legazpi, Cebu, Bacolod, Iloilo, Zamboanga, Davao, and Cagayan de Oro. It is also the fourth in the Visayas.
The presence of SEC extension offices in the regions ensures the efficient delivery of public services and effective enforcement of laws concerning the capital market, financing and lending companies, and the overall corporate sector. (PNA)