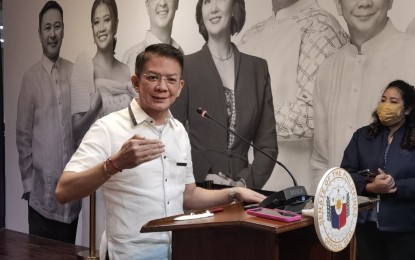 MANILA – At a time when the country is still recovering from the effects of the pandemic, the government should run after tax evaders, cut unnecessary expenditures, and intensify its campaign against corruption instead of introducing new tax measures, Senator Francis Escudero said Thursday.
"Taxation should be the last resort, not the first option. You reduce unnecessary expenses to cancel the need for unreasonable taxes," Escudero said in a statement.
According to the lawmaker, a new tax measure is not advisable at this point as we have yet to recover from the pandemic.
He said aside from the pandemic, the past six years have been "a very taxing season" as a train of revenues was passed, referring to the Tax Reform for Acceleration and Inclusion (TRAIN) law.
"Paano sila babangon kung hihilahin sila pababa ng bagong buwis (How will they get back on their feet if they are dragged down by new taxes)? Choked by the pandemic, the last thing they deserve is to be choked by taxes this time," Escudero said.
Rising inflation, he said, also provides the "wrong timing" to hike taxes because it reduces purchasing power.
"May kasabihan na (We have a saying that) inflation is a form of taxation imposed without legislation," Escudero said. "Adding high taxes to high prices of goods is like pouring gasoline on fire."
He noted that if new tax proposals are being assembled, he would "ask the President to please press the 'pause' button."
Escudero's statement came after the Department of Finance said it would push for new and higher taxes on sugary drinks and motor vehicles, among others, to generate PHP81.9 billion annually in its first year of implementation.
The Bureau of Internal Revenue (BIR) plans to impose a creditable withholding tax of 1 percent on one-half of the gross remittances of online platform providers to their partner sellers or merchants.
"In addition to what I have proposed, we can sell non-performing assets that cost money to maintain. We should have more public-private partnerships to fund infrastructure. We should also be careful in accepting loan proposals. We do not just take hook-line-sinker each and every ODA (Official Development Assistance) which comes our way," Escudero said. (PNA)