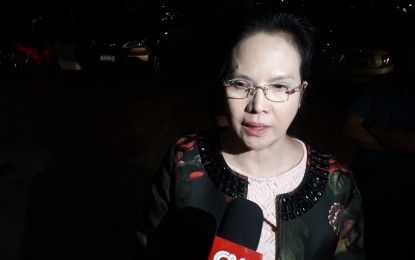 MANILA – Public Attorney's Office (PAO) chief Atty. Persida Rueda Acosta on Thursday expressed willingness to help the Supreme Court (SC) craft the Implementing Rules and Regulations (IRR) of Republic Act 9999, otherwise known as the "Free Legal Assistance Act of 2010".
Thirteen years from its enactment, Republic Act 9999 or the "Lapid Law" could not as yet be implemented for its incomplete IRR.
The same law provides that within 90 days from its effectivity, the Bureau of Internal Revenue (BIR) shall formulate the necessary revenue regulations for the proper implementation of the tax component as envisioned in the law.
"Kami po ay handang tumulong sa Committee on Rules ng SC na bumalangkas ng IRR upang maipatupad na ang 'Lapid Law' (We are ready to help the Committee on Rules of the SC in crafting the IRR in order to implement the Lapid Law)," Acosta said in a press conference.
Republic Act 9999 was principally authored by Senator Manuel Lapid and was signed into law by then President Gloria Macapagal-Arroyo on Feb. 23, 2010.
Acosta noted Section 5 of RA 9999 which states that "a lawyer or professional partnerships rendering actual free legal services, as defined by the Supreme Court, shall be entitled to an allowable deduction from the gross income, the amount that could have been collected for the actual free legal services rendered or up to 10 percent of the gross income derived from the actual performance of the legal profession, whichever is lower."
In this connection, the PAO chief said they have written SC Chief Justice Alexander Gesmundo on May 5, 2023 requesting for the issuance of IRR of RA 9999.
"We believe that such issuance (IRR) is very timely and will significantly address the issue of lack of legal representation due to conflict of interest," Acosta said. (PNA)