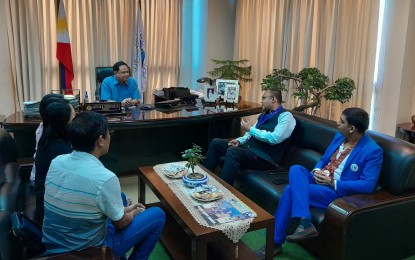 ILOILO CITY – The provincial and city government of Iloilo welcome the India Business Roadshow here on May 31 expecting to attract investments.
Nishikant Singh, Embassy of India Counsellor of Economic and Commerce, joined by representatives of the Philippine Chamber of Commerce and Industry (PCCI) and India Business Forum Philippine Association, Inc. (IBF), paid a courtesy visit to Iloilo Governor Arthur Defensor Jr. and Iloilo City Mayor Jerry Treñas on Wednesday to inform the officials of the upcoming investment forum.
The IBF is an organization consisting of country heads, chief executive officers, and representatives from Indian companies based in the Philippines.
In a press conference on Thursday, Defensor said the province is ready to bring in the business sector in response to their request for business-to-business (B2B) or business-to-government (B2G) sessions with Indian firms.
"They are planning to expand in BPO (business process outsourcing) here in Iloilo, in voiceover internet. They also want to increase our people on cultural exchange because they said that many of their countrymen would want to come here as tourists," Defensor said.
Treñas, in a statement, said the upcoming event shows the efforts of the city to provide a business-friendly environment already resulted in investors coming in to bring more employment opportunities not only in Iloilo City but the whole of Western Visayas.
"Iloilo is one of the important centers for us to focus on. And through this India Business Roadshow, we would also like Indian companies to see Iloilo and to feel what opportunities are there," Singh said in a media interaction on Wednesday afternoon.
He said the platform would be a venue where Indian companies and Filipino businesses could meet and talk to each other.
"It will be a good opportunity. For the first time, this India Business Roadshow is happening in Iloilo, it does not happen before so it's the start of a journey which we are bringing," he added.
The business forum will be the sixth of the series of roadshows by the Embassy of India.
Together with the PCCI, six initial sectors have been identified as the focus of the forum, including information technology and business process management, health care, agriculture (agrochemical and irrigation), automobile, renewable energy (waste to energy), and tourism and services.
"Stakeholders in Iloilo and neighboring provinces, if they think they can benefit from it, (they) can come and participate," Singh said.
Meanwhile, Defensor said the sectors that were identified met the development thrusts of the province to maximize agricultural production, create a value chain, and in the process create employment and business for agricultural tourism. (PNA)