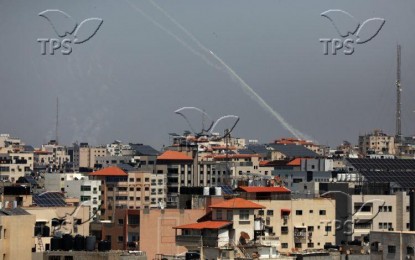 JERUSALEM – Thousands of Israelis living near Gaza have been evacuated since Tuesday's targeted killings of three top Palestinian Islamic Jihad terrorists in the Strip.
Anticipating a barrage of Palestinian rocket fire, which began on Wednesday, Defense Minister Yoav Gallant approved the evacuation plan, called "Gust of Wind," in anticipation of retaliatory rocket fire from terrorist factions in Gaza.
Evacuees are being bused to hotels, hostels and guest houses throughout Israel, where they will be able to stay for three days, with the possibility of an extension depending on the security situation.
Many other Gaza-area residents have temporarily relocated to other parts of the country on their own initiative.
"The program is operated by the local authorities and allows every resident of the localities near the Gaza border to go on a respite with the aid of the state in guesthouses, specified in advance by the authorities," the Defense Ministry said in a statement.
The Education Ministry on Wednesday announced that no classes would be held in communities within 45 km. (25 miles) of the Gaza Strip. The directive affects about 300,000 students in 35 local authorities.
According to the instructions of the IDF Home Front Command, public gatherings in these areas near the Gaza Strip will remain limited to 10 people in an open area and up to 100 people in a building.
Public bomb shelters were opened in Tel Aviv as well as Givatayim, Ramat Gan and other municipalities. (TPS)