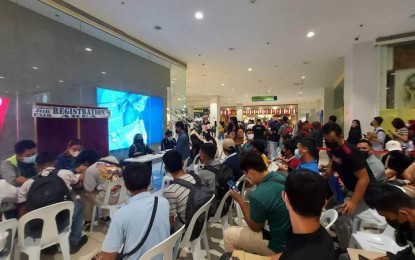 MANILA – Over 400,000 first-time job seekers were able to secure free preemployment documents from different government agencies in 2022.
In separate social media posts on Thursday, the Bureau of Local Employment (BLE), an attached agency of the Department of Labor and Employment (DOLE), reported that a total of 400,470 preemployment documents were given for free to individuals who are looking for employment for the first time by other government departments last year.
"For 2022, the program has issued 400,470 pre-employment documents, free of charge," it said.
The most number of documents that were given are barangay certificates numbering 190,459 as reported by the Department of the Interior and Local Government.
There were 182,095 National Bureau of Investigation (NBI) clearances that were issued while a total of 26,031 certificates of proficiency from the Maritime Industry Authority have also been provided to job hunters.
The Philippine Statistics Authority has issued a total of 1,885 birth certificates.
Under Republic Act 11261 enacted in February 2019, all first-time job seekers may avail of pre-employment requirements for free.
Those covered under the law are graduates of college degrees, vocational courses, or high school, or those planning to be working students.
The BLE noted that anyone looking for a job has to secure a barangay certification that he/she is a first-time job seeker from their village officials.
It added that such certification will then be presented to the government agencies to be able to secure the preemployment requirements from them.
The available documents are Barangay Clearance, Barangay Certificate, and Clearance for Employment (Office of the Mayor) from local government units; Police Clearance from the Philippine National Police; NBI Clearance from the National Bureau of Investigation; and Taxpayer Identification Number (TIN) from the Bureau of Internal Revenue.
Also, Medical Certificate from a public hospital/Department of Health; PhilHealth ID from the Philippine Health Insurance Corporation; Unified Multi-Purpose ID from the Social Security System/Government Service Insurance System; CSC Certificate of Eligibility from the Civil Service Commission; and National Certificates, Certification, Authentication Verification, and Certificates of Competencies from Technical Education And Skills Development Authority.
The BLE said first-time job seekers may also avail Certificate of Proficiency on Basic Training, and Certificate of Proficiency on Ship Security Awareness Training and Seafarers with Designated Security Duties from Maritime Industry Authority; Overseas Employment Certificates from the Philippine Overseas Employment Administration.
Also included are birth certificate and marriage certificate from the Philippine Statistics Authority, and report cards, permanent school records, transcript of academic records, and or certificate of graduation completion, and/or diploma, certificate of rating from Department of Education or the Commission on Higher Education. (PNA)