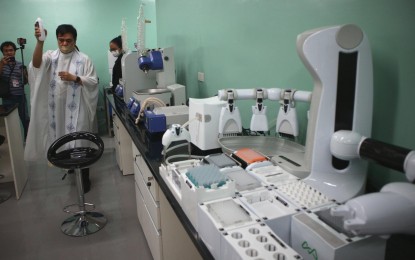 DAVAO CITY – The first-ever Niche Centers in the Regional for Research and Development (NICER) in the Philippines opened on Thursday at the Davao Medical School Foundation Inc., that would primarily address problems among women and children.
Supported by the Department of Science and Technology (DOST) for Change Program (S4CP), the ReDMatCh (Research and Development Center for Maternal and Child Health) was conceptualized because women and children are among the most vulnerable sectors of society.
In a press briefing, Dr. Genevieve Tupas, the ReDMatCH project leader, noted that women and children suffer the most from illness, poverty, disparity, and lack of access to quality health care.
"These are major problems that women and children face nowadays. We are trying to understand the problem better through study and when we get to understand factors that contribute to the problem, then we will be able to offer a better solution in the future," Tupas said.
Stunting, dengue
She said the program, which obtained PHP75 million in funding from the DOST, is composed of three component projects that try to seek solutions to the issues of childhood stunting, pediatric dengue, and postpartum depression.
"The problem of stunting in Davao City is not that much it is at 10 percent but in the neighboring province like Davao de Oro it's more than 10 percent and in the Bangsamoro Autonomous Region in Muslim Mindanao (BARMM) it's 45 percent. BARMM region will benefit from the study," Tupas said.
Dr. Genelynne Beley, the project leader for the pediatric dengue component, said they will determine and compare mother and child metabolomic and microbiome profiles among pediatric dengue patients. Metabolomic is one of the key technologies to detect and identify the small molecules produced by the human microbiome, and to understand the functional role of these microbial metabolites.
Microbiome-metabolome studies of the human gut have been gaining popularity in recent years, mostly due to accumulating evidence of the interplay between gut microbes, metabolites, and host health.
Beley said they will also design a risk assessment scoring system for severe diseases among Filipino children one month to 14 years old. "Dengue is still endemic, and it's all year round here during the rainy season, and we still have a lot of mortality," she noted.
Postpartum
For the postpartum component, Dr. Agnes Padilla, the project leader, said they wanted to identify postpartum depression (PPD) risk factors and develop a risk assessment score system to help pregnant women avoid PPD.
She added that metabolomics predicts PPD risk, which may benefit both mother and child.
"One of the uniqueness of PPD is there are three victims, the mother, the infant, and the family. If the mother is impaired, the infant who relies on maternal care will be affected," Padilla said.
She cited a study from the World Health Organization in 2016 showing that 16 percent of postpartum women developed depression.
"If you don't treat it, it will last a lifetime and will affect the family as well as their finances. If we can check early for PPD we can prevent everything," Padilla said. Tupas said the project will be undertaken for three years. (PNA)