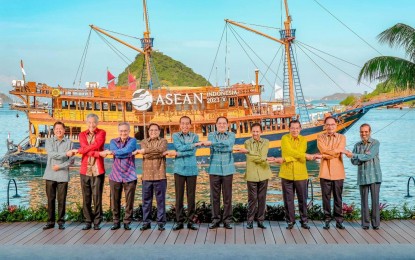 MANILA – President Ferdinand R. Marcos Jr. said on Thursday that member-states of the Association of Southeast Asian Nations (ASEAN) appeared to have reached a consensus to address the situation in Myanmar.
"There seems to be a consensus forming amongst the ASEAN Member States that we need to do something more to try and address the situation in Myanmar," Marcos said in a statement after the 42nd ASEAN Summit Retreat Session in Labuan Bajo, Indonesia.
Marcos noted that ASEAN members have agreed to find other ways to ease the growing tension in Myanmar, as the peace plan, known as the Five-Point Consensus, failed to make any progress.
"Since the Five-Point [Consensus] has not been implemented and there seems little progress, the advice or the opinion of the majority of ASEAN members was that we must find ways to re-engage both sides of the conflict, both the military regime and the opposition. And it seems a good idea," the President said, adding that the Philippines agrees with this view.
The five-point consensus, that was agreed upon by ASEAN members in Jakarta in 2021, included provisions for an immediate end to violence, dialogue among all parties, the appointment of a special envoy, humanitarian assistance by ASEAN and a visit by the regional bloc's special envoy to Myanmar to meet with all parties.
Myanmar issue must not hinder ASEAN dev't
Indonesian President Joko Widodo (Jokowi) emphasized that issues related to the current situation in Myanmar should not hinder efforts to accelerate the development of the ASEAN community.
"What I want to ensure is that the issue of Myanmar should not hinder the acceleration of development of the ASEAN community," Jokowi was quoted as saying by state-run Antara News Agency.
Jokowi made this statement while opening the 42nd ASEAN Summit Retreat Session at the Meruorah Convention Center, Labuan Bajo on Thursday.
Earlier, ASEAN member countries expressed support for Indonesia's efforts to continue dialogue with various stakeholders in Myanmar through a joint statement released on Wednesday.
Through this declaration, member countries also support the Indonesian president's statement in response to the attacks recently experienced by the ASEAN Coordinating Center for Humanitarian Assistance and Disaster Management (AHA Centre) and the ASEAN monitoring team in Myanmar.
"We support the efforts of the ASEAN Chairs, including Indonesia's efforts in continuing the engagement of stakeholders in Myanmar and encouraging progress on the implementation of the Five-Point Consensus," the statement read.
On Monday, Jokowi also stressed that the attack on the AHA Center entourage and the ASEAN monitoring team would not dampen the determination of Indonesia and the ASEAN to continue calling for an end to the violence in Myanmar.
Myanmar's security situation has worsened since the military in February 2021 brought down the elected government, led by Nobel Peace Prize laureate Aung San Suu Kyi, in a coup. (with reports from Antara/PNA)