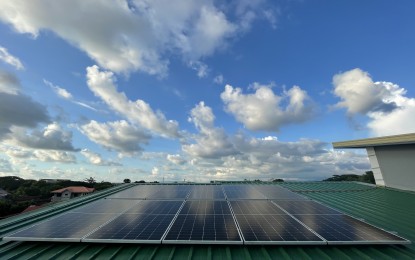 LAOAG CITY – Solar rooftops will be installed in 15 public schools in the province of Ilocos Norte in an effort to reduce their carbon footprint and improve air quality.
Athena Nicolette Pilar, representative to the board of the Ilocos Norte Electric Cooperative, said Thursday these schools will be in addition to the 11 public schools that have already been retrofitted with solar rooftops last year, with funding from the National Electrification Administration.
Aside from the public schools, solar panels are also being planned to be installed at six government buildings, including the provincial capitol building, the Dap-ayan commercial building, Governor Roque B. Ablan Sr. Memorial Hospital, and the Bangui, Dingras, and Marcos District Hospitals.
"The provincial government can save around PHP8 million per year once the solar project is completed," Pilar said.
She said installation for the first batch of solar panels at the provincial capitol is already 84 percent complete, while funds for the second batch is still being procured.
The total cost for the installation project has been estimated at PHP45 million, with a capacity of 470 kilowatts at its peak of operation.
Known as the renewable energy capital of Southeast Asia, Ilocos Norte is home to both the first and the biggest wind farms located in the towns of Bangui and Burgos.
The Bangui windmills have 26 wind turbines, capable of producing electricity up to a maximum total generating capacity of 41 megawatts (MW).
Meanwhile, the Burgos windfarm, located in a 600-hectare site, consists of 50 wind turbines with a total capacity of 150 MW.
At present, 108 wind turbines are installed across the province. Aside from windmills, solar farms also abound in the province. (PNA)