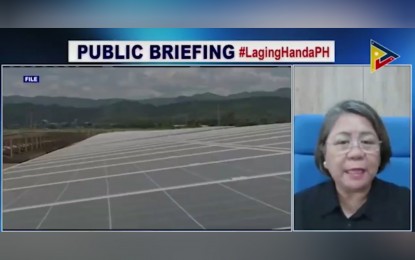 MANILA – An official from the Department of Energy (DOE) has said the 1,200-megawatt (MW) Ilijan power plant is on track to operate this month to augment the supply amid increasing demand for electricity during the dry season.
"We are happy that the Ilijan plant's progress is on time and we expect that by May 26, it will operate and will contribute power to the grid," DOE Undersecretary Rowena Guevara said in an interview during the Laging Handa public briefing on Thursday.
Guevara said once the Ilijan power plant will go online, the Luzon grid may avoid the possible yellow alerts in June.
The Luzon grid experienced yellow and red alerts this week due to the tripping of Masinloc Units 1 and 2.
The DOE said more than 600 MW of power supply were lost due to this forced shutdown.
With the reoperation of the Ilijan plant, Guevara said the power supply in Luzon will increase by 10 percent.
The power plant has not been in operation since June last year due to its retrofitting works.
Guevara added that the agency has asked power plant operators to reschedule their maintenance after the dry season to avoid power interruptions.
She said the DOE is facilitating investments in renewable energy (RE) projects to meet their target operation this year.
For 2023, the energy official said some 1,000 MW of RE projects will go online.
Guevara said the DOE is also closely monitoring the transmission line projects of the National Grid Corporation of the Philippines (NGCP). These include Mindanao-Visayas Interconnection Project, the Cebu-Negros-Panay Project III, and the San Jose-Hermosa Transmission Line.
"If these three will be completed, we expect that by August, we will be able to avoid the yellow alerts for the rest of the year," she said in Filipino. (PNA)