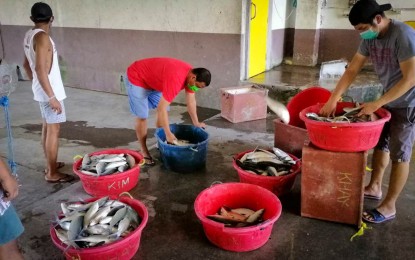 CITY OF SAN FERNANDO, Pampanga – The Department of Agriculture-Bureau of Fisheries and Aquatic Resources Central Luzon (DA-BFAR 3) is set to implement a program that will boost the "bangus" (milkfish) industry in the region.
DA-BFAR 3 Regional Director and national focal person for bangus development Wilfredo Cruz said on Thursday that fisherfolk groups as well as representatives from the local government units in the provinces of Aurora, Bataan, Bulacan, and Zambales have conducted an initial meeting to tackle issues, concerns, and plans for the implementation of the Bangus Development Program.
"We aimed at coming out with a detailed implementation plan for the bangus development program in the region while at the same time, identifying solutions and strategies that may arise during the implementation proper," he said in a statement.
Cruz said that during their meeting, he laid down the concept for the project on the establishment of community-based larval rearing and wild-fry holding facilities in key provinces of the region.
"This is just one of the many interventions lined up under the National Bangus Program for the enhancement of the early input stages of the value chain. This move will help not just to boost production but also to ensure that only sturdy stock supply is produced," he added.
Cruz cited the need for more milkfish fry due to the expansion of production areas not only in the region but also nationwide.
At present, he said the country is importing milkfish fry from Indonesia to meet the growing demand.
"Thus, we came out with this program and hopefully, by the next five years, we will have sufficient milkfish fry," he said.
Cruz is also hopeful of working hand-in-hand with the major players in the industry and the supportive government partners to ensure the effectiveness of the project.
"We still have a long way to go but with all of them working by the DA-BFAR's side, I am sure that we will be able to reach our goal of bangus commodity sufficiency towards an abundant agriculture and prosperous economy," he added.
Data from the Philippine Statistics Authority showed that milkfish is one of the major species that contributed to the growth of the region's total fisheries production in 2022.
The increase was pegged at 3.7 percent equivalent to 89,943.4 metric tons, up from the 86,750.4 metric tons in the fourth quarter of 2021. (PNA)