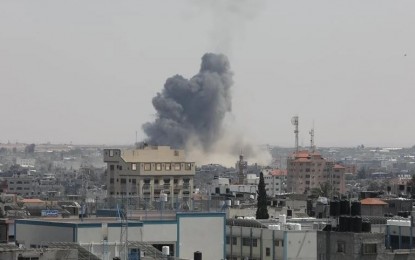 GAZA CITY, Palestine – The death toll from Israeli airstrikes on the Gaza Strip has risen to 25, the Palestinian Health Ministry said Thursday.
Another 76 Palestinians have been injured in the air attacks, according to the ministry.
Early on Thursday, the Al-Quds Brigades, the armed wing of the Islamic Jihad group, confirmed the death of its rocket launch unit commander Ali Hassan Ghali.
Ghali, who was also a member of the group's military council, is the fourth Islamic Jihad leader killed in the recent wave of airstrikes.
Wives and children of Islamic Jihad leaders have also been killed in the attacks.
The Israeli army has said the airstrikes are part of its Operation Shield and Arrow, an offensive launched after rockets were fired from Gaza following the death of a Palestinian inmate who was on a hunger strike in an Israeli prison.
Palestinian factions also fired a barrage of rockets at Israel on Wednesday.
According to Palestinian figures, at least 130 Palestinians have been killed by Israeli forces since the start of this year. At least 19 Israelis have also been killed in separate attacks during the same period. (Anadolu)