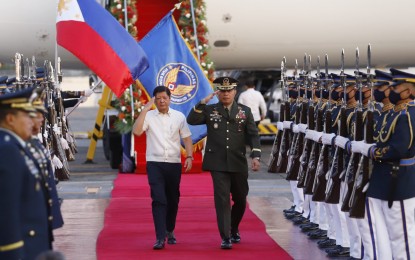 MANILA – President Ferdinand R. Marcos Jr. arrived in Manila on Thursday following his participation in the successful 42nd Association of Southeast Asian Nations (ASEAN) Summit and Related Summits in Labuan Bajo, Indonesia.
The plane carrying Marcos and the official Philippine delegation, including First Lady Liza Araneta-Marcos, arrived at the Villamor Air Base in Pasay City around 5:54 p.m.
During the meeting with ASEAN leaders, Marcos emphasized the importance of upholding the international rules-based system, which has underpinned regional security, peace and order in the region.
Marcos also expressed the Philippines' commitment to the principles of free trade and the multilateral trading system.
He called for enhanced support for nano businesses, as well as micro, small, and medium enterprises, and their integration into the global economy.
"We continue to work towards long-term food and energy security, and to address the impacts of climate change, amongst other things," Marcos said in his arrival speech.
The Philippines, he said, likewise expressed support for the community-building efforts of the regional bloc, including the strengthening of ASEAN's institutions.
Marcos thanked Indonesian President Joko Widodo for the warm hospitality extended to him and his delegation.
He described the ASEAN summit as a success, as he expressed hope to see progress on both the economic and political fronts.
"I believe that the summit was a success and that it chartered the new directions that were initiated by the chairman, President Widodo, and with the concurrence of all the member-states. And, many new ideas were ventilated and many of those were adopted. And, we hopefully see some progress on the political front, and certainly on the economic front," he said.
Marcos shared that the ASEAN leaders also discussed regional and international developments, such as the situation in Myanmar, the conflict in Ukraine and the South China Sea dispute.
He called for Myanmar to adhere to the peace plan, known as the Five-Point Consensus and expressed support for Indonesia's enhanced initiatives in its implementation.
"We also came into agreement that we will adjust our approach on the situation in Myanmar and to try to engage Myanmar at every level and to all political factions that are active and are involved in that crisis situation in Myanmar," he said.
Marcos, meanwhile, expressed deep concern regarding the humanitarian crisis and the continued economic impacts of the Russia-Ukraine war, which contributes to global food and energy insecurity.
On the South China Sea issue, he reaffirmed the Philippines' commitment to the peaceful resolution of disputes and advocated for a rules-based maritime order anchored on the 1982 United Nations Convention on the Law of the Sea (UNCLOS).
Marcos also called for increased collaboration among concerned nations in the Brunei Darussalam-Indonesia-Malaysia-Philippines-East ASEAN Growth Area (BIMP-EAGA) for further development of the region.
Marcos participated in the ASEAN Leaders' Interface with Representatives of ASEAN-Interparliamentary Assembly (AIPA), and ASEAN Leaders' Interface with Representatives of ASEAN Youth.
He also attended the ASEAN Leaders' Interface with Representatives of ASEAN Business Advisory Council (ASEAN-ABAC), ASEAN Leaders' Interface with High-Level Task Force on ASEAN Community Post 2025 Vision (HLTF-ACV). (PNA)