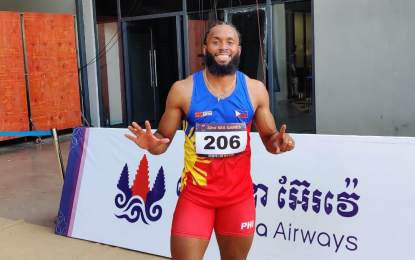 PHNOM PENH – Ageless Eric Shaun Cray ran to his 6th straight 400m hurdles gold in the Southeast Asian Games to infuse life into the Philippine campaign in the 32nd Southeast Asian Games at the Morodok Techno National Stadium here on Thursday.
The 34-year-old Cray, bugged by a nagging sports hernia, weathered the pain to storm to a 50.03-second clocking in his favorite event, beating Thailand's Natthapon Dansungnoen (50.73) and Singapore's Calvin Quek (50.75). The Philippines' other entry, Alhryan Labita placed 7th in 53.89.
Cray's time was way below his Philippine record of 48.98 achieved at the IAAF World Challenge in Moratalaz, Madrid in 2016, but was enough to give him a sixth straight 400m hurdles' title and eighth gold overall to crown himself as the most successful track athlete in the games.
His other two came in the 100m during the 2015 Singapore games and the 4x100 mixed relay in the 2019 edition at the New Clark City Stadium in Tarlac.
"This means everything," said Cray, catching his breath as a swarm of reporters surrounded him. "This is a product of hard work, dedication."
"You know, we just showed a lot of perseverance. I have a lot of drive, dedication for 10 years, ups and downs after injuries and everything I've been through," said Cray, who is aching to make a return to the Olympics, to be held in Paris 2024.
The next step is the Asian Championships, which is a qualifying tournament for the Olympiad.
"That (Olympics) is the goal," said Cray, who is still undecided on whether to shoot for 7th straight 400m hurdles gold when the biennial meet is held in Thailand in 2025.
"I gotta qualify first in Paris, then I'll take it from there," he added.
The athletics team's two other golds were courtesy of Ernest John Obiena's record leap in the pole vault and Janry Ubas in the long jump. (PNA)