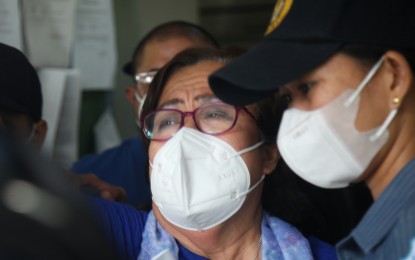 MANILA – The Muntinlupa Regional Trial Court (RTC) on Friday acquitted former senator Leila de Lima of conspiracy to commit illegal drug trading, one of the two remaining charges related to her alleged involvement in shady deals inside the New Bilibid Prison (NBP) in Muntinlupa City when she was still justice secretary.
Presiding Judge Joseph Alcantara of Branch 204 said after key witness and former Bureau of Corrections (BuCor) deputy director Rafael Ragos recanted his testimonies last year, it cast a reasonable doubt on the guilt of the 63-year-old de Lima, who has been under detention since February 2017.
"Under the circumstances of this case, the testimony of witness Ragos is necessary to sustain any possible conviction. Without his testimony, the crucial link to establish conspiracy is shrouded with reasonable doubt," the court said.
De Lima was cleared of alleged violation of Section 5 of the Comprehensive Dangerous Drugs Act that penalizes the "sale, trading, administration, dispensation, delivery, distribution, and transportation of illegal drugs."
The prosecution claimed proceeds from the sale of illegal drugs were delivered to de Lima in two tranches of PHP5 million on Nov. 24 and Dec. 15, 2012.
Ragos and intelligence agent Jovencio Ablen were initially presented as witnesses but the judge noted that only the former claimed knowledge of the supposed source of the money.
"The rule of law has prevailed and it just points out to us that the independence of the judiciary is a basic foundation of our democratic system," Justice Secretary Jesus Crispin Remulla told reporters.
The charge of tolerating the drug trade inside the NBP is pending before the Muntinlupa RTC Branch 256.
Judge Romeo Buenaventura set hearings for next month.
A decision has yet to be released on her application for bail but if convicted, she faces life imprisonment.
De Lima's co-accused in the remaining complaint are her former aides Ronnie Dayan and Joenel Sanchez, former BuCor chief Franklin Jesus, his former staff member Wilfredo Elli, and a certain Jad de Vera.
In a statement, de Lima said she did not doubt from the very beginning that she would be acquitted in all the cases filed against her "based on the merits and the strength of my innocence" and she is "extremely grateful to all those who stood by and prayed for me all these years."
Happy for De Lima

In another statement, opposition Senator Risa Hontiveros said she is happy that her friend and colleague has been acquitted and she is anticipating "her full vindication and eventual liberty."
European Union (EU) Ambassador to the Philippines Luc Veron said the EU has been closely following the proceedings against the embattled lawyer and hoped for the "quick decision" on her bail plea for her pending case.
"Only recently, Members of the European Parliament and the EU Special Representative for Human Rights Eamon Gilmore have visited Senator De Lima in her detention centre," he said in a statement.
"[W]e hope for a quick resolution of the remaining case against the former senator, while ensuring the highest standards of rule of law and human rights."
In a tweet, German Ambassador Anke Reiffenstuel described the ruling as a "progress".
"The rule of law is essential for a functioning democracy & important for further strengthening Philippine-Germany relations. Germany will continue to follow the remaining case in which Leila de Lima filed a petition for bail," she said.
Denmark Ambassador Franz-Michael Mellbin also congratulated De Lima and similarly hoped for "a positive bail decision".
"Hope for a positive bail decision following six years of detainment and two acquittals as well as a speedy process in the last case," he said. (PNA)