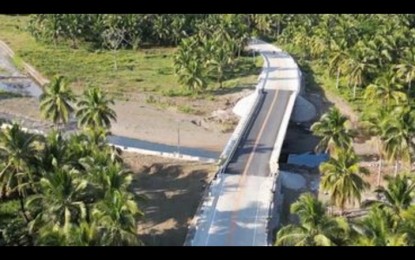 CITY OF SAN FERNANDO, Pampanga – The Department of Public Works and Highways (DPWH) has completed the construction of a bridge in Dilasag town, Aurora province that will now provide for a safer and more efficient transport of agricultural goods and services.
Implemented by the DPWH-Aurora District Engineering Office, the Sapsap Bridge which spans 50 meters in length and 9.54 meters in width is aligned with the government's goal of improving infrastructure and connectivity in the provinces.
District Engineer Roderick Andal said on Friday that the completion of the PHP49-million bridge project is a significant milestone for the province.
Andal said the new bridge will reduce travel time and transportation costs, enhance access to markets and services, and create more economic opportunities for Dilasag and neighboring communities.
Likewise, he said the bridge is expected to provide safer travel to motorists crossing Sapsap Creek in Barangay Dilaguidi.
"Every time there is a calamity, it has been difficult for residents and motorists to cross the creek due to the rapidly rising water, thus, the new bridge will greatly benefit the public," he said in an interview.
Included in the Sapsap Bridge construction project are the building of approaches measuring 155 meters and 135 meters on both ends, as well as the construction of flood control structures on the upstream right bank with a steel sheet piles foundation.
"This bridge is essential for the local economy, particularly for the transportation of agricultural goods and services, and for the convenience of travelers in the area. We are pleased to have completed this project, which will serve the community for many years to come," he added.
Meanwhile, the Department of Social Welfare and Development (DWSD) has provided cash assistance to six people's organizations (POs) that are composed of former members and supporters of the New People's Army.
Lt. Col. Julito Recto Jr., commanding officer of 91st Infantry "Sinagtala" Battalion, 7th Infantry Division, Philippine Army, said some PHP740,000 cash assistance was distributed to the Renewed Strength Dinadiawan Association (RSDA), Calaocan New Life Association (CNLA), Malikhang Mamamayan Lingkod para Isulong ang Kaunlaran ng Aurora (MMLIKA), Samahan ng Mangingisda ng Sitio Dumaguipo at Dinipan (SMDD), Samahan ng Mangingisdang Agta (SMA) and the Samahan ng Nagkakaisa sa Pagbabago (SNP).
Recto said the 152 member-beneficiaries received PHP5,000 each as additional start-up capital in their chosen business.
"People's welfare is always the government's priority. We will continue to assist our former rebels by providing all the needed financial assistance. We are appealing to our POs to be financially sensible and make wise of their money which is duly intended for their livelihood and loved ones," he said in an interview. (PNA)