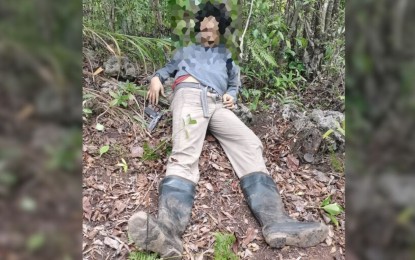 CEBU CITY – An alleged remnant of the New People's Army (NPA) was killed in an encounter with troops of the 47th Infantry Battalion in Barangay Tabuan, Antequera, Bohol province on Friday morning, a police official said.

Col. Lorenzo Batuan, chief of the Bohol provincial police, identified the slain rebel as a certain "Jasper."
He was with four of his comrades when the gunfight ensued. The four others managed to escape.
"The Bohol Party Committee has long been dismantled by the government. But there were reported sightings of their remnants in the area. That alias Jasper was identified by his former comrades who have already surrendered and availed of the assistance from the government," Batuan told the Philippine News Agency (PNA) in a phone interview.
He said the town police have joined the soldiers in pursuing the four other rebels while the Scene of the Crime Operation in the province rushed to the area to gather evidence.
Authorities have recovered a caliber .45 pistol with a magazine, and several live ammunition, the Visayas Command (Viscom) said in a statement.
Lt. Col. Israel Galorio, Viscom's spokesperson, said the real name of "Jasper" is yet to be known. (PNA)