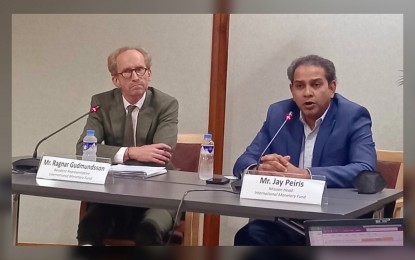 MANILA – The International Monetary Fund (IMF) is keeping its 6 percent growth projection for the Philippine economy this 2023 and sees robust output in 2024 despite the impact of elevated inflation and interest rates and challenging external developments.
In a briefing on Friday, Shanaka Jay Peiris, Mission Head of the IMF team, said the domestic economy registered one of the strongest recovery from the pandemic with a growth, as measured by gross domestic product (GDP), of 7.6 percent in 2022, higher than the government's 6.5-7.5 percent target.
In the first quarter of this year, the domestic economy exceeded expectations after it expanded by 6.4 percent.
Growth print from January to March this year, however, is slower than quarter-ago's 7.1 percent and year-ago's 8 percent, which authorities traced to base effects and the impact of elevated inflation rate, among others.
Peiris said the economy's growth in the first quarter this year is (in) line with their expectations, thus, the unchanged full-year forecast for 2023.
He also noted that inflation has decelerated but said they expect the Bangko Sentral ng Pilipinas (BSP) to keep interest rates tight for most of this year.
Rate of price increases has slowed to 6.6 percent last April after hitting its highest so far this year of 8.7 percent last January, a 14-year high.
With the acceleration of inflation rate, the central bank's policy-making Monetary Board (MB) has increased the BSP's key rates by 425 basis points since May 2022.
"The current policy stance might be kept tighter for longer, maybe most of this year given that inflation, core inflation is still high and global inflation remain high," he said.
Peiris said they expect the robust output of the domestic economy to be sustained next year but noted this will be challenged by base effects, among others.
Asked for possible measures against the base effects, he said focus should be given to further improving the investment side such as on infrastructure and on raising productivity through digitalization and agricultural reforms. (PNA)