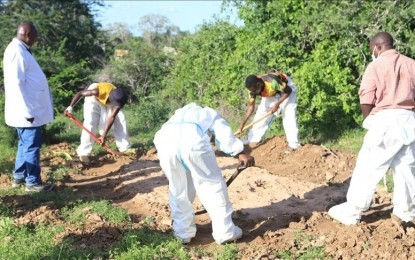 NAIROBI, Kenya – Police in Kenya announced Friday that the death toll in the Shakahola cult case had reached 179.
Bodies were exhumed from 12 graves on land owned by the church leader pastor Paul Mackenzie.
A total of 609 people has so far been reported missing, Coastal Regional Commissioner Rhoda Onyancha said, adding that more residents had come to them to register family members who went missing.
More bodies are still to be exhumed Saturday in the vicinity of the cult's stronghold in Malindi.
The meticulous process has shed light on the horrific extent of the tragedy that unfolded where officials believe that victims were encouraged to starve themselves to meet Jesus.
Efforts to uncover the truth behind the cult's activities and the circumstances surrounding the deaths remain ongoing.
The exhumations had been halted due to bad weather earlier this week but resumed after several days.
An investigation that began last month has revealed that some of the victims had their organs missing, leading to suspicion that they were victims of human organ trafficking.
Interior Minister Kithure Kindiki described the deaths as a highly organized crime, saying the mass graves were many. (Anadolu)