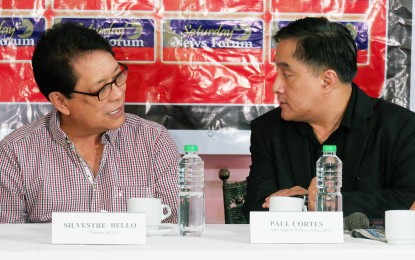 MANILA – The situation in Taiwan remains normal and measures are in place to protect the estimated 160,000 Filipinos on the island, the Manila Economic and Cultural Office (MECO) said Saturday.
Amid tensions and recent developments over the Taiwan Strait, MECO chief Silvestre Bello III said he believes a possible confrontation between Taipei and Beijing is "very remote."
"In Taiwan, everything is normal and, if in the remote possibility na magkaroon ng (that there would be an) emergency situation, like for example earthquake or even war, preparado ang Taiwan government (the Taiwan government is prepared) not only in protecting their own people but even the Filipinos, especially our workers," Bello said at the Saturday News Forum in Quezon City.
He said he recently met with representatives of Taiwan's National Police Agency and Civil Defense Office and both agencies assured the protection and welfare of Filipinos.
Bello said about 89,000 shelters are spread across the island that could accommodate more than Taiwan's total population of 23 million, including Filipinos.
"In addition to the shelter provided by the Taiwanese government, lahat ng mga (all) factory have their own shelters for their workers – ganoon kahanda ang Taiwan (Taiwan is that prepared)," he said.

'Hontiveros trip'
Bello also mentioned the recent Taiwan trip of Senator Risa Hontiveros, who met with Filipino workers.
"Whether this is official or private, it does not really matter. China does not really mind iyong mga (the) elected officials going there, ang inaano nila iyong mga executive officers (China does not really mind elected officials going there, only those who are executive officers)," he said.
"I was informed that she was also invited by the Ministry of Foreign Affairs, which resulted in her meeting with the Taiwanese President, naka-meet niya si (she was able to meet with) Taiwanese President Tsai (Ing-wen)."
In a press release issued by her office, Hontiveros called for increased interaction with Taiwan, citing the similar challenges it shares with Manila, among them cybersecurity and climate change.
Beijing had previously criticized Tsai's meeting with United States lawmakers that prompted the deployment of warships and fighter jets around the island for military drills.
The Philippines, like the US, adheres to the one-China policy. (PNA)