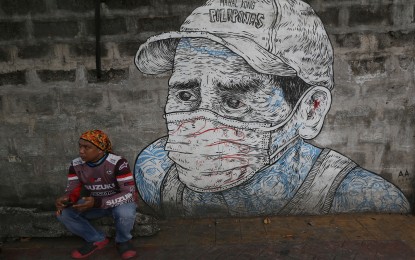 MANILA – The positivity rate or the number of people testing positive for the coronavirus disease 2019 (Covid-19) in the National Capital Region (NCR) has reached 25.4 percent as of May 13.
In a tweet on Sunday night, OCTA Research Group fellow Dr. Guido David said the figure was a slight increase from the region's positivity rate of 22.7 percent from May 1 to 6.
"High positivity rates seen in Bataan (20.2 percent), Batangas (33.7 percent), Benguet (20.3 percent), Bulacan (25.2 percent), Camarines Sur (46.5 percent), Cavite (36.9 percent), Isabela (36.6 percent), Laguna (29.9 percent), Oriental Mindoro (29.5 percent), Pampanga (24.8 percent), Quezon (42.7 percent), and Rizal (44.4 percent)," he said.
The positivity rates in the Visayas and Mindanao regions were low except for Aklan with 56.9 percent and Leyte with 21 percent.
Earlier, the Department of Health told the public to focus on measures that would protect oneself against Covid-19, such as wearing face masks, getting vaccinated, and receiving booster doses as cases rise. (PNA)