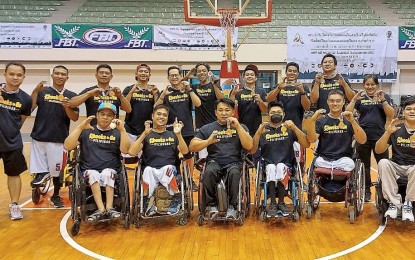 MANILA - The national men's team has earned a trip to the Hangzhou Asian Para Games after winning the bronze medal at the International Wheelchair Basketball Federation (IWBF) Asia-Oceania Championships in Suphanburi, Thailand last Saturday.
The Philippines defeated Chinese Taipei, 62-57, in the battle for third place in the tournament held at the Suphanburi Stadium.
Also qualified were Kuwait and Afghanistan, which battled for the gold medal in the final match won by the latter, 58-56.
"It was a very close match from start to finish," said national team head coach Vernon Perea about the bronze medal match on Monday.
"We dominated them with our inside game during the elimination match. What they did was to put two defenders on our center Alfie Cabañog which we anticipated and focused on during our pre-game preparation. As expected, they pressured us full court from start to finish. We invited the double team on Alfie and ran the floor well. Our game plan worked and did damage on transition," added the former member of the Ato Badolato-mentored San Beda College Red Cubs. He was a varsity chess player.
The Philippines beat Hong Kong (71-39), United Arab Emirates (68-58) and Chinese Taipei (60-42), but lost to Afghanistan (65-58) and Kuwait (57-50) in the elimination round.
The team, which arrived in Manila last Sunday, is expected to resume training this week as the Cambodia ASEAN Para Games is just two weeks away.
"The preparation of both men's and women's teams for the ASEAN Para Games is okay. The women's team attended a development camp conducted by the IWBF in Thailand last March," shared the 52-year-old Perea, who grew up in Makati but is now residing in Marikina.
"Prior to that, both teams started training December of last year. We're practicing in three venues, namely Sta. Lucia basketball gym along Marcos Highway, San Roque covered court, and Strip 70 basketball court in Marikina," she added.
The Philippines is hoping to improve its silver medal performance in last year's ASEAN Para Games in Indonesia.
"For the men's team, we would like to go for the gold. But we are expecting a much stronger opposition from all the teams that are participating, especially Malaysia which we expect to come back strong, Thailand of course [which has] been lording it over for several years already, and the host country Cambodia [which] will be full of surprises," Perea said.
"With the women's team, not much to expect for now except for a better showing than the last staging. We just started our program for the women's team and usually it takes years of training due to the wheelchair skills requirement of the sport," she added.
The women's team placed fourth behind Thailand, Cambodia and Laos in 2022.
Representing the Philippines in Cambodia are Mark Vincent Aguilar, John Rey Escalante, Kenneth Christopher Tapia, Freddie Magdayo, Alfie Cabañog, Rene Macabenguil, Janelle Cañete, Clifford Trocino, Marlon Nacita, Jefferson Legacion, Kyle Carlo Carandang and Moises Escobar in the men's team.
Meanwhile, the members of the women's team are Patricia Camille Castro, Lois Jean Delos Reyes, Jocelyn Follero, Janet Briñas, Cathreen Gem Tanyag, Rhebilyn Aniban, Mary Joy Hernandez, Mylene Margaha, Ihoricel Panquico, Lorna Lilagan and Cecille Wells.
Perea's coaching staff is composed of Harry Joseph Solanoy, Yolanda Hernandez and Juanito Mingarine. (PNA)