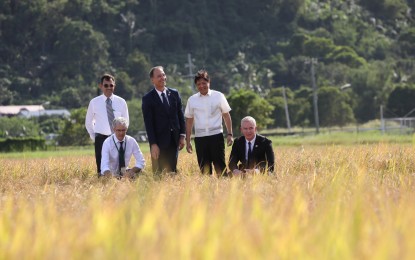 LOS BAÑOS, Laguna – The upcoming 6th International Rice Congress (IRC), to be hosted by the Philippines for the first time, will focus on providing holistic science-based solutions to the combined impacts of climate extremes, looming rice crisis, conflict, and economic shocks to the rice value chain.
The quadrennial IRC will be held at the Philippine International Convention Center (PICC) in Pasay City on Oct. 16 to 19.
It is co-organized by the Department of Agriculture (DA).
"We look forward to meeting long-time partners and collaborators as well as new players in the agri-food, climate change, and nutrition sector and learn from each other," Jean Balié, director general of the International Rice Research Institute (IRRI), said in a statement on Tuesday.
This year's theme is "Accelerating Transformation of Rice-Based Food Systems: From Gene to Globe."
Previous IRC editions were held in Beijing (2002), New Delhi (2006), Hanoi (2010), Bangkok (2014), and Singapore (2018).
Undersecretary Leocadio Sebastian, who heads the DA's rice industry development arm, said participants can expect to "learn about recent advancements in genetic, digital, and nature-based solutions, offering valuable insights to address the various challenges faced by the rice industry in the Philippines."
He emphasized that the IRC is responsible for one of the priority areas of the Philippine government, which is achieving food self-sufficiency and improving the lives of Filipino farmers.
The IRC is the world's largest gathering of rice scientists, industry experts, policy-makers, entrepreneurs, as well as other interested parties from academia and civil society.
The event allows international stakeholders in rice research and production "to share the results of their work; intelligence on market trends, drivers, and developments; and together learn about factors that affect the rice industry and technologies in the short and long term," according to the Rome-based Global Forum on Agricultural Research. (PNA)