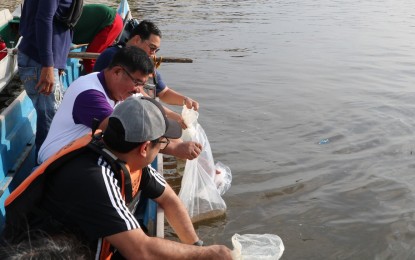 CITY OF SAN FERNANDO, Pampanga – The Bureau of Fisheries and Aquatic Resources in Central Luzon (BFAR-3) has dispersed some 120,000 fingerlings in the rivers of this province and Tarlac under its Balik Sigla sa Ilog at Lawa (BASIL) program.
Personnel from the BFAR-3 and Provincial Fisheries Office led Monday the release of some 24,000 common carp and 46,000 tilapia fingerlings in the Batsun-Bangut River located in the mountainous part of Bamban town, Tarlac province that will benefit indigenous fisher folks in the area.
Likewise, some 50,000 tilapia fingerlings and 3,000 ulang (freshwater shrimp) post-larvae were released on Tuesday in the Guagua-Pasak River in Guagua town, this province.
The fingerlings released came from the BFAR's National Freshwater Fisheries Technology Center.
BFAR Regional Director Wilfredo Cruz said on Tuesday that the dispersal activities are part of the BASIL program that aims to repopulate freshwater bodies with non-invasive and indigenous fish species.
Cruz said the move also aims to increase productivity and eventually improve the living condition of the fisherfolk in the two provinces.
"This will help improve the productivity and sustainability of the lives of the fisherfolk in the areas," he said in an interview.
Cruz urged the fisherfolk to observe safe, proper, and environment-friendly fishing practices such as the appropriate use of gears and non-use of harmful fishing methods to ensure that the benefits of water resources are maximized.
"Overfishing and the use of illegal and destructive fishing methods have virtually decimated the indigenous fish species in major lakes and rivers. This move will help strengthen the local indigenous fish population. The project will also involve the communities surrounding the river and make them aware of the importance of sustainable and environment-friendly fishing practices," he added. (PNA)