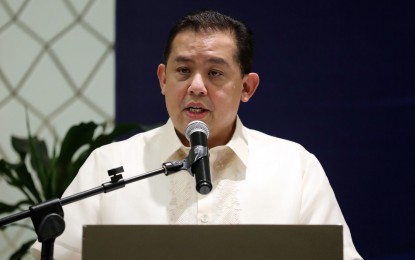 MANILA – House Speaker and Lakas-Christian Muslim Democrats (Lakas-CMD) president Ferdinand Martin Romualdez on Tuesday welcomed a fellow member of the House of Representatives from Bukidnon province after joining the party.
The House Speaker administered the oath to Bukidnon Representative Jonathan Keith Flores as the party's 71st House member at the Speaker's Office in Quezon City.
"I thank Congressman Flores for joining the right political party whose commitment is to work towards a better future for our nation. We are honored to welcome you today as the 71st House member of Lakas-Christian Muslim Democrats, a dedicated advocate for positive change," Romualdez said.
Other House officials, including former President and incumbent senior Deputy Speaker Gloria Macapagal Arroyo, Lakas-CMD chairperson emeritus; Majority Leader Manuel Jose "Mannix" Dalipe, Lakas-CMD executive vice president; and Agusan del Norte Rep. Jose "Joboy" S. Aquino II, Lakas-CMD secretary general; witnessed the oath-taking.
Romualdez said he is happy that Flores had decided to join the Lakas-CMD and be a partner in providing the people with a stronger voice to effect positive transformations.
He also urged Lakas-CMD members to continue working with the administration of President Ferdinand R. Marcos Jr. for a more inclusive and prosperous future and effect a meaningful difference in addressing various problems besetting the country.
"As promised, we continue to grow in support of President Ferdinand Marcos Jr.'s agenda for prosperity and socio-economic development roadmap. Let us join together in our drive for meaningful progress in addressing our country's critical issues," Romualdez said.
Last February, Romualdez administered the oath to South Cotabato 2nd District Rep. Peter Miguel and Laguna 2nd District Rep. Ruth Mariano-Hernandez as the 69th and 70th House members, respectively. (PNA)