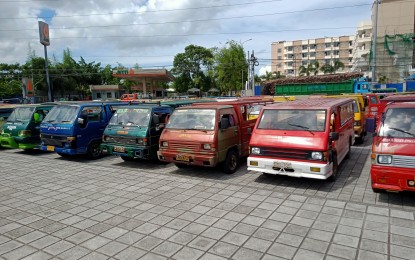 BACOLOD CITY – Operators of about 600 traditional public utility jeepneys (PUJs) in this city are seeking an extension of provisional authority (PA) from the Land Transportation Franchising and Regulatory Board (LTFRB) to be able to operate even without franchises until the end of the year.
The city government has endorsed the issuance of PA to qualified traditional PUJ operators to ensure sufficient public transport while modern jeepneys are still not enough to cover all the local routes under the Public Utility Vehicle Modernization Program (PUVMP).
Councilor Al Victor Espino, chairman of the committee on transportation and traffic, said on Tuesday the City Council passed a resolution last week supporting the issuance of PA for old jeepney operators until Dec. 31, 2023.
"It was recommended by (the committee) and it was approved unanimously by the Sangguniang Panlungsod (City Council). We support the executive order of the LTFRB to extend until Dec. 31," he said in a press conference.
Espino was joined by Elizabeth Katalbas, president of Federation of Bacolod City Drivers Association, as well as Albert Villanueva and Eduardo Asis, chairman and secretary-general, respectively, of Sentrong Samahan ng mga Tsuper at Operators Negros.
The initial PA granted to the PUJ operators here was only until March 31 this year.
About 500 operators, mostly from both transport groups, are expected to apply for an extension before the LTFRB 6 (Western Visayas) office in Iloilo City.
"We will bring all their documents tomorrow (Wednesday) to the LTFRB," Asis said.
He said after completing the processing of documents with the LTFRB, they would proceed to the Land Transport Office, and then to the city government.
Espino said the city government issues a sticker once a business permit is granted to a public utility vehicle operator.
"They (LTFRB) committed to finish the processing in one week before, but the process was then long. We are hoping this time, it will be faster. This is already a product of the discussions between City Administrator Pacifico Maghari III and the LTFRB national office. They have given us their assurance to process it expeditiously," he added.
Meanwhile, the Bacolod Alliance of Commuters, Operators and Drivers, Inc. also lobbied on Tuesday for the applications of about 100 operators for the issuance of PA.
In Bacolod, about 1,512 jeepney operators have obtained endorsement for the issuance of PA out of the 1,898 that need an extension.
The PA is a provisional remedy for any person who intends to operate their units while their franchise applications are pending with the agency. (PNA)