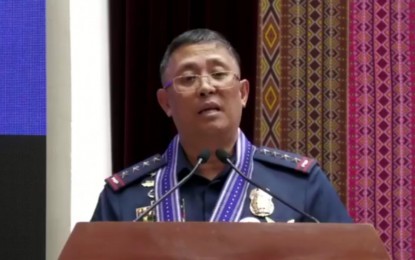 MANILA – Retired Philippine National Police (PNP) chief Gen. Rodolfo Azurin on Tuesday urged the 228,000-strong police force to be vigilant and oppose any wrongdoing their colleagues might get involved into.
Azurin made the statement during Tuesday's Senate Committee on Public Order and Dangerous Drugs inquiry on the Oct. 9, 2022 drug raid in Tondo, Manila where Master Sgt. Rodolfo Mayo Jr., a member of the Philippine National Police Drug Enforcement Group (PNP-PDEG), was caught in possession of 990 kilos of shabu.
"This is a wakeup call for all the PNP personnel na let us not tolerate everyone especially if they have so many misgivings or shortcomings because it is really the people who expect that lahat po ng kapulisan ay gagawin ang tama at kung ano po ang marapat (This is a wake-up call for all the PNP personnel that we should not tolerate everyone especially if they have so many misgivings or shortcomings because it is really the people who expect that the police force will do the right thing and what is right)," Azurin told the panel.
The former PNP chief also urged police officials to exercise their leadership at the different levels of the organization.
"This should be a lesson sa lahat po ng ating mga (to all our) operating unit that let us supervise our people on the ground. Let us not allow that we will be influenced by the few scalawags and misfits in the uniformed service," he said.
Azurin made the remark after Senator Ronald Dela Rosa, who chairs the panel, cited in contempt Police Capt. Jonathan Sosongco over his "unbelievable" statements during the inquiry.
Sosongco, a member of the PNP Drug Enforcement Group (PDEG), was asked by Dela Rosa to give him the contact number of his informant but the latter failed to do so.
Azurin said PDEG chief Brig. Gen. Narciso Domingo is a victim of his people's manipulations and schemes.
He believes that even Domingo is confused "because he was not expecting that the people he should have trusted were the ones who made different erroneous reports that led to so many problems that we are now facing, and the Senate investigating."
"Let us keep on believing that more PNP ay mabubuti po kumpara po sa mangilan-ngilan (are good compared to a few bad eggs)," he added.
Being the PNP chief at the time of the incident, Azurin clarified that there is no plan to cover up the illegal drug case involving Mayo.
Mayo's arrest prompted an investigation, which, according to Interior Secretary Benjamin Abalos Jr., exposed the involvement of some high-ranking police officials to the illegal drugs trade.
This prompted Abalos, with the approval of President Ferdinand R. Marcos Jr., to call for the courtesy resignation of all police colonels and generals to weed out scalawags from the police force.
Dela Rosa said his committee will schedule one last hearing to further discuss the issue before delivering his committee report and recommend legislative actions. (PNA)