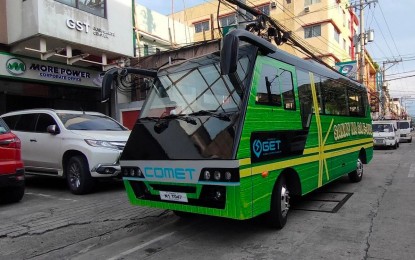 ILOILO CITY – More Electric and Power Corporation (MORE Power), the power distribution utility operating in this city, is bringing in at least 10 air-conditioned electric buses (e-buses) to ply routes in the metro this year.
MORE Power president Roel Castro, in an interview on Tuesday, said introducing the environment-friendly mode of transportation is part of their firm's sustainable objective in support of the local government's thrust of becoming a sustainable city with sustainable initiatives.
"Since we are in the electric distribution business, we thought of bringing this in," he said.
MORE Power has teamed up with supplier Global Electric Transport (GET) Philippines for the provision of an alternative mode of transportation.
Castro said they will negotiate with the transport cooperative for the adoption of eco-friendly buses in their fleet and business process outsourcing firms in the city for the shuttle buses of their employees.
He said the e-bus causes no harm to the environment because it does not emit smoke nor create noise pollution.
"Eventually, we want this promoted and that the transport coops will really get into this. This is part of our corporate social responsibility to really introduce a very important sustainable initiative here in the city," he added.
The e-bus can accommodate 20 passengers. When fully charged, it could go as far as 100 kilometers.
A slow-charging unit can take around eight hours to get fully charged.
Stations will be established in strategic areas in the city to cater to their charging needs.
A similar mode of transport is now in major provinces and cities in the country, including Taguig City, Davao, Cebu, Cagayan de Oro, Pampanga and Batangas.
A test run for a single unit was conducted last week where Mayor Jerry P. Treñas was among its first passengers.
"Thrilled to ride the eco-friendly e-bus of MORE Power. Let's all do our part in reducing our carbon footprint and switch to sustainable transportation options," the mayor posted on his Facebook account. (PNA)